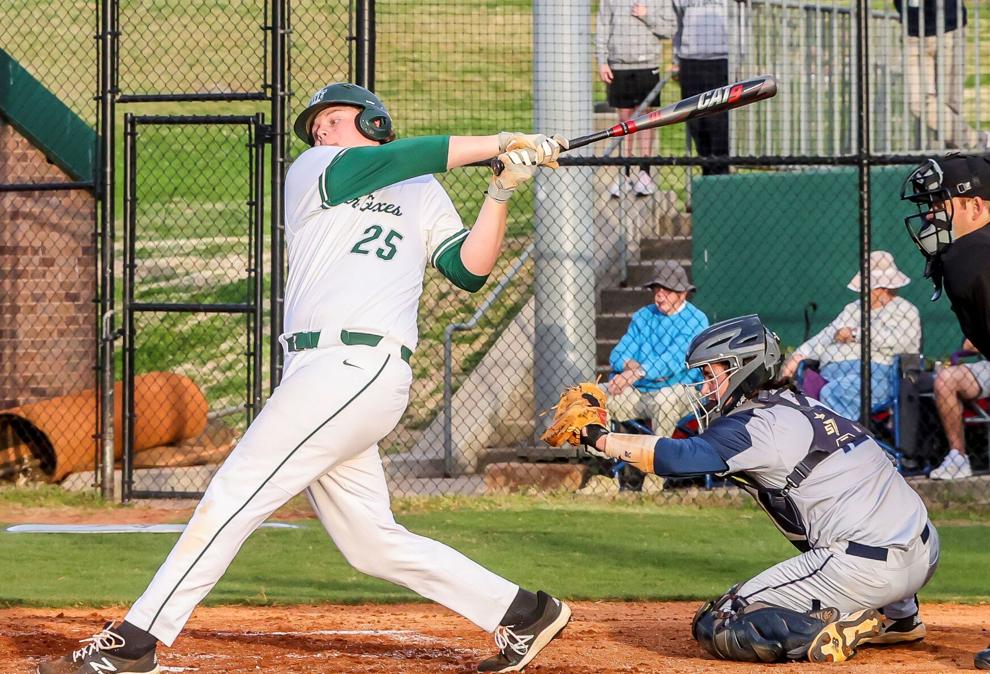 Region 5-5A rivals Dutch Fork and River Bluff remained undefeated at the Forest Acres Classic Tuesday at AC Flora High School.
Should the Gators and Silver Foxes win their respective games today, they would face each other for the tournament title at 3 p.m. Thursday.
River Bluff 12, Hammond 3
Jack Benedict had three hits and three RBI, and Weston Lever had two hits and three RBI.
Walker Mitchell also had three hits and two RBI and Preston Sansone, Beau Hollins and Ethan Plyler each had two hits and an RBI for River Bluff.
Zach Cowart struck out four in six innings for the win.
Dutch Fork 15, Atlantic Shores Christian 7
Down 5-2, the Silver Foxes outscored the Seahawks 13-2 over the final four innings for their eighth consecutive victory.
Collin Shealy went 3-4 with 7 RBI. He had two 2-round doubles, a tie-breaking two-run single in the fourth inning and an RBI fielder's choice.
University of South Carolina commit Evan Stone went 3-3 with four RBI, including a three-run homer in the sixth inning, and he and Jay Metts each scored four runs.
Ellis Hunter pitched 2 1/3 innings, struck out five and allowed four hits. Dillon Wilson finished the game and allowed no earned runs.
White Knoll 3, Newberry 2
Hayden Cushman hit a walkoff RBI single with the bases loaded to help the Timberwolves even their mark at the Forest Acres Classic.
White Knoll took a 2-1 lead in the bottom fifth on consecutive RBI fielder's choices. After the Bulldogs tied the game in the top seventh, Adon Dobbs hit a leadoff single in the bottom half of the inning and Reign Lybrand and Dylan Johnson each drew walks to load the bases.
Tristan Presley picked up the victory in relief of Alex Lyon, who replaced starter Levi Dunn. Dunn allowed three hits and struck out one in 5 2/3 innings.
AC Flora 16, Gray Collegiate 2 (5 innings)
After getting shut out by Dutch Fork a night earlier, the top-ranked Falcons unleashed their offense against the War Eagles.
Jake Sears had two hits and three RBI, Phillip Daniels and Zander Buchan each scored three runs and Tillman Gedding had a two-run single for AC Flora.
Hill Teas and Jake Huggins each struck out four in a combined 4 1/3 innings of work. The lone runs driven in for Gray Collegiate were by Mason Turner and Brent Stukes.
(Wednesday's Games)
River Bluff vs. Newberry 11 a.m.
Gray Collegiate vs. Dutch Fork 2 p.m.
Hammond vs. White Knoll 5 p.m.
AC Flora vs. Atlantic Shores Christian 8 p.m.
SC DIAMOND INVITATIONAL STARTS TODAY
Wednesday's Games
(AT LEXINGTON HS)
Blythewood at Lexington 11 a.m.
Westwood vs. TL Hanna 3 p.m.
(AT BROOKLAND-CAYCE HS)
Chapin vs. Greenville noon
Dorman at Brookland-Cayce 4 p.m.