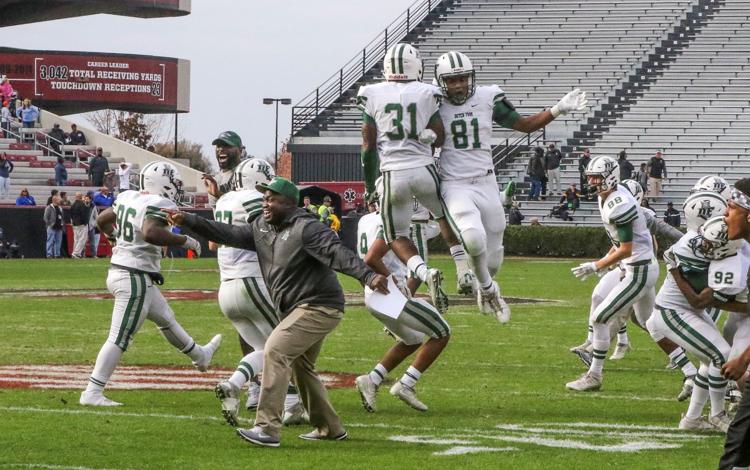 A 28-minute drive separates Dutch Fork High School and Williams-Brice Stadium.
For the school's senior football players, it has served as a "home away from home".
At noon Saturday, the Silver Foxes will look to claim a fourth consecutive S.C. High School League Class 5A title, and fifth overall on the home field of the Gamecocks.
They will face a familiar foe in undefeated Dorman (14-0) for the championship at noon.
"They're a very formidable opponent," Dutch Fork head coach Tom Knotts said. "They do everything right. They're a great coached team. We're looking forward to Saturday."
The contest is a rematch of the 2017 final won by the Silver Foxes 28-27. Dutch Fork rallied from an early deficit behind the play of running back Ron Hoff and wide receiver Bryce Thompson and got a game-saving tackle by linebacker Hugh Ryan of tight end John Gelotte on the two-point conversion attempt to preserve the victory.
"We thought we had a good play," Cavaliers' head coach Dave Gutshall said. "But they made a great play. If I had to do it, I'll call the same play. If we're in that situation Saturday, it will be a different play."
The series is tied at 4-4 between the two teams dating back to 2007. Gutshall views the Silver Foxes as a rival given the recent history and acknowledges his defense will have a challenge stopping their offense by quarterback Ty Olenchuk.
"I don't think there's any team in the state that can stop the Dutch Fork offense," he said. "If we can keep the ball in front of us and we're going to have to make some plays in the Red Zone. When you watch (Olenchuk) play, he's always getting the ball to the right guy. It's a very impressive offense and pretty good on defense. They've done a great job on that side of the ball as well."
"He's got a golden arm and can really throw the football as good as anybody that I've ever had," Knotts said. "I'm just looking forward to (Olenchuk) finishing with a bang and he'll be sorely missed in the future."
Olenchuk is the team's all-time leader in passing yards and touchdowns. He has thrown for 3,284 yards and 39 touchdowns this season.
"GIVE HALL THE BALL"
While the Silver Foxes' passing offense with Olenchuk and wide receivers Jalin Hyatt (59 receptions, 1,196 yards, 23 TDs) and Elijah Spencer (49 receptions, 844 yards, 8 TDs), the running game with senior Jonathan Hall has produced 36 rushing touchdowns and 1,341 yards to go with 36 receptions for 477 yards.
Last Friday in the 45-20 win over Carolina Forest in the Lower State final, Hall tied a school record with six touchdowns and has scored 10 TDs in the past two playoff games.
"Friday night was one of the first times Ty said 'Give Jonathan the ball, give Hall the ball,'" Knotts said. "Let's don't throw it anymore. Let Hall carry it. He's running like a demon. That was the first time I ever heard Ty said it. It was nice to see Jon have a special night."
The same game also saw defensive back DiMarco Johnson set a school record with his 11th career interception.
MILESTONES
Dutch Fork will enter Saturday's game looking to extend the following streaks:
•39 straight games without a loss.
•38 straight wins over South Carolina teams
•19 straight post-season wins.
The Silver Foxes are also seeking to become the seventh program in state history to win four consecutive titles:
•Florence (1916-19)
•Woodruff (1975-78)
•J.F. Byrnes (2002-05)
•Christ Church (2011-2014)
•Dillon (2012-2015)
•Abbeville (2015-18)
The senior class of Dutch Fork High School enters Saturday's game with a 54-1-1 overall record. They finished undefeated in region play at 20-0 and are undefeated in the post-season entering Saturday.
BY THE NUMBERS
Both Dutch Fork and Dorman are holding opponents to under 10 points a game. The Silver Foxes are averaging 46 points a game, while the Cavaliers are averaging 43 points a game.
TV/RADIO AVAILABILITY
The game will air live on Channel 1250 on Spectrum Cable and streamed at www.nfhsnetwork.com and watched for a subscription fee.
(PHOTO BY WWW.GOFLASHWIN.COM)
Dutch Fork players celebrate following the defensive stand in the 2017 Class 5A final against Dorman. The two teams meet again at noon Saturday at Williams-Brice Stadium.