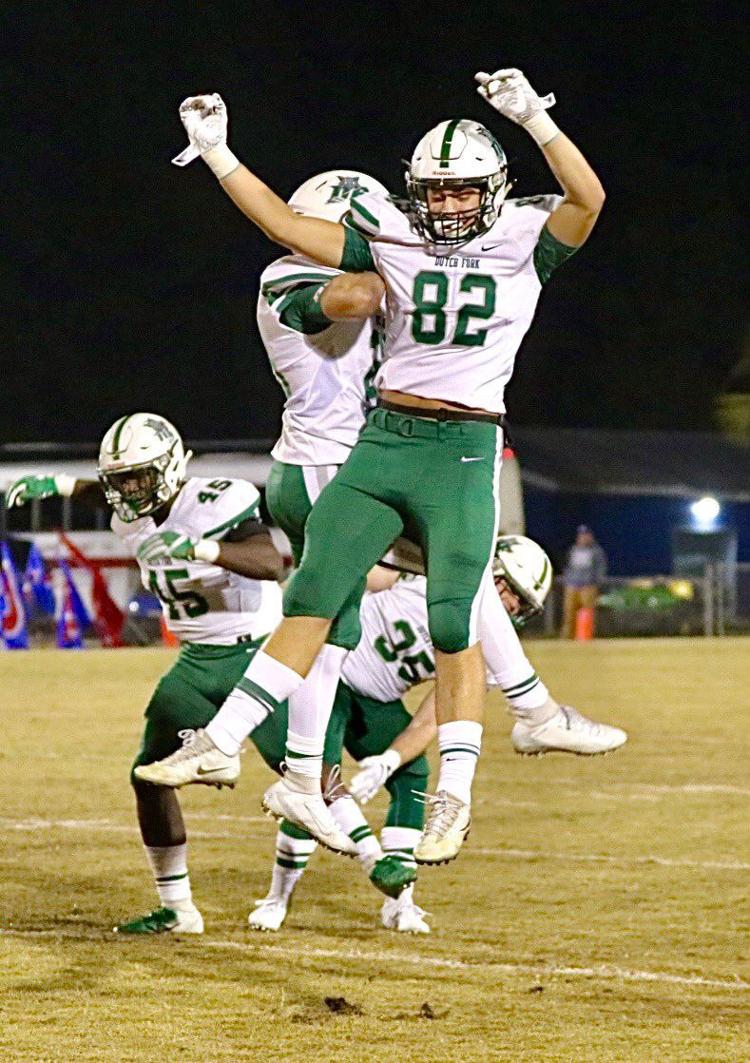 And then there was one.
On a night which saw Lexington County/Town of Irmo schools play host to state powers, the resident dynasty of Class 5A was the lone team still standing in the high school playoffs.
The Silver Foxes shut out Fort Dorchester 48-0 to advance to their fourth consecutive Lower State final. The three-time defending Class 5A champions will play host to Carolina Forest for a berth in the Class 5A final against either Dorman or Gaffney.
Meanwhile, Gilbert and Gray Collegiate all fell in home in close losses to Dillon and Abbeville, respectively, and Airport was defeated on the road by Myrtle Beach.
Dutch Fork 48, Fort Dorchester 0
The last time the Silver Foxes tasted defeat, it was at the hands of the Patriots at home on Sept. 1, 2017.
For the second time in three years, Dutch Fork handed previously-undefeated Fort Dorchester a season-ending loss.
Quarterback Ty Olenchuk opened the game with a five-yard touchdown pass to Jalin Hyatt. It was the Clemson baseball signee's lone touchdown pass of the game.
Running back Jon Hall took over the Dutch Fork offense, rushing for 188 yards and four TDs to lead the offense. The senior reached the 30 rushing touchdowns on the season.
Defensively, Dutch Fork (12-0-1) held Fort Dorchester (12-1) to 5 first downs and 91 total yards. It also collected three sacks and forced four turnovers.
Defensive back Tyrik McDaniel collected two of the Silver Foxes' three interceptions, including a 40-yard pick returned for a touchdown early in the third quarter.
The win extended Dutch Fork's undefeated streak to 38 games and 37 straight victories over in-state teams. It was also the Silver Foxes' 23rd straight road win and 18th consecutive post-season victory.
Dillon 41, Gilbert 34
For the second time in three years, the Wildcats ended one of the most successful seasons in school history for Gilbert at a sold-out Leonard Price Field.
Quashod Singleton's 14-yard touchdown run with 16 seconds left turned into the game-winning score.
Gilbert had a final chance to tie the game with three seconds left following a 51-yard hook-and-ladder play between Matthew Reed and Alec Holt. With the ball at the Dillon 14, quarterback Jy Tolen's pass went incomplete to Dre Cook in the endzone as time expired.
Tolen finished with 285 passing yards to surpass 4,000 yards on the season. He also had two touchdowns, but had a interception that was returned for a touchdown by Daizion Alford in the second quarter.
Before halftime, Tolen connected on a 52-yard Hail Mary pass to Holt to put Gilbert ahead 20-14. Dillon stormed back to score 14 unanswered points on two touchdown runs by Tyquan King to take a 27-20 lead in the third quarter.
With 9:05 left in the fourth quarter, Holt took the lateral pass from Tolen and tossed a 13-yard touchdown pass to Reed to tie the game. Holl finished with 183 total yards and three touchdowns.
Nearly 90 seconds later, quarterback Jay Lester found Singleton for a 46-yard touchdown to regain the lead at 34-27.
Gilbert answered back with a scoring drive capped by a two-yard touchdown run by Cook with 3:12 left. Dillon got the ball and converted a key fourth down to set up Singleton's score.
The Wildcats will face May River in the Lower State final. Gilbert ends the season with a 11-2 mark, tying the school record for most wins.
Abbeville 38, Gray Collegiate 35
Despite 5 touchdowns for the second straight week by K.Z. Adams, two on touchdown passes by Hunter Helms who surpassed 4,000 passing yards on the season, the War Eagles fell short to the 4-time defending Class 2A champions.
The Panthers (13-0) will face longtime rival Saluda for the Upper State final. Gray Collegiate ends the season with a school-best 10-3 record.
Myrtle Beach 35, Airport 10
The Eagles jumped out to a 10-lead lead in the 1st half over a Seahawks' team missing University of South Carolina commit Luke Doty.
Myrtle Beach proceeded to storm back to score 35 unanswered points. Backup quarterback Ryan Burger threw 3 touchdown passes and Xayvion Knox and Adam Randall both rushed for scores to lead the undefeated Seahawks (12-0), who next play Hartsville in the Class 4A Lower State final.
OTHER SCORES
Hartsville 22, Brookland-Cayce 21