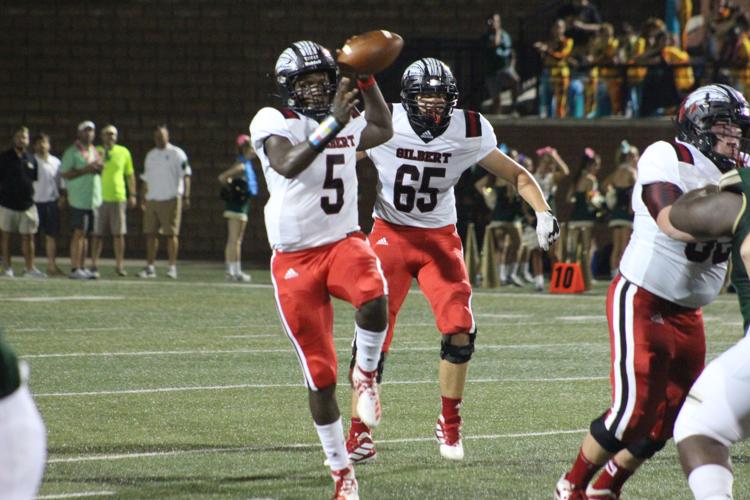 Friday's "Showdown in The Swamp" truly lived up to its billing.
From the opening kickoff to the final buzzer, River Bluff and Gilbert put on display their offensive weapons which guided each team to an undefeated record entering the Lexngton County clash.
In the end, the Gators came away with the 48-40 victory over the Indians. Shrine Bowl running back Braden Walker opened the game with a 98-yard kickoff return and put the contest out of reach in the fourth quarter with a 60-yard touchdown run.
For Gilbert, quarterback Jy Tolen threw for 413 yards and four touchdowns. However, he was intercepted with 1:51 left by Austin Glad as the Indians attempted to answer Walker's go-ahead score from nine yards with 3:16 left.
River Bluff jumped out to a 14-0 lead when Gilbert answered with touchdown passes of 77 to Dre Harris and 27 yards to Alec Holt by Tolen to tie the game by the end of the first quarter.
Riley Myers regained the lead for River Bluff with a 16-yard run with 9:07 left in the second quarter. On Gilbert's next possession, running back and linebacker Dre Cook was ejected from the game for unsportsmanlike conduct. In the second half, Preston Sansome was also ejected from the game for the Gators.
Tolen tied the game when he found Holt for a 73-yard touchdown passes. At the start of the third quarter, Holt took a reverse and raced 80 yards for a touchdown to give the Indians their first lead at 28-21.
Holt and Tolen hooked up again with 3:22 left in the third quarter on a four-yard touchdown pass. Trailing 34-21 after the missed PAT, River Bluff cut the deficit to 34-28 on a 27-yard touchdown run by Myers. He finished with 110 yards on 10 carries.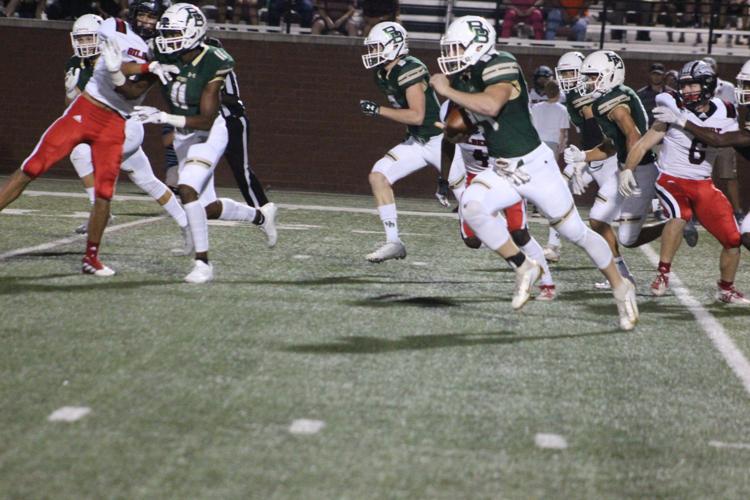 Holt scored again for Gilbert on a 13-yard run with 11:51 left in the fourth quarter. He finished with 100 rushing yards on four carries and a touchdown and 118 receiving yards on four catches, and three TDs.
The Indians failed on the two-point conversion and River Bluff quickly scored on a 70-yard touchdown pass play from Jackson Stone to Kendall Long to make it 40-35.
Stone finished 6-12 passing for 120 yards and two TDs.
After Walker's touchdown run put the Gators ahead 41-40, Gilbert looked to answer. Instead, Glad picked off Tolen's pass downfield and Walker broke free towards the endzone with 22 seconds left to clinch the victory.
Both teams now turn their attention to region play. The Indians (5-1) play host to Swansea, while River Bluff will remain idle until Oct. 11 when it travels to Dutch Fork.
OTHER LEXINGTON COUNTY/TOWN OF IRMO WEEK 5 SCORES
Dutch Fork 49, Northwestern 0
A.C. Flora 49, Chapin 43
Lexington 44, Spring Valley 27
Brookland-Cayce 35, Newberry 27
Pelion 24, Columbia, 8
Swansea 36, Silver Bluff 14
Clover 48, Irmo 14
Beaufort Academy 54, Northside Christian 6
Wardlaw Academy 46, W.W. King 0