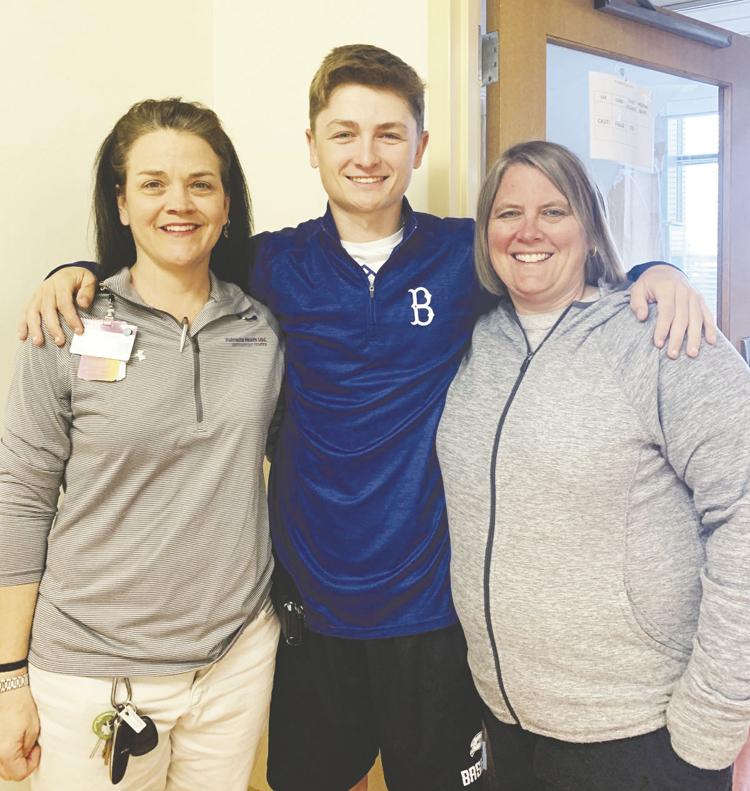 The work and duty of public service workers has received increased focus during the ongoing pandemic.
When it comes to Gilbert High supplemental athletics trainer T.J. Marsh, her work and diligence will always hold a special place of admiration and appreciation of Grayson Selepes' family.
"I'm not a hero," she said. "I was doing my job. That's part of it. That's what we do, what athletic trainers do."
The definition of the word would describe what happened Sunday, March 8 at Gilbert High School when the life of the J.F. Byrnes outfielder was, quite literally, in Marsh's hands.
"It was awful"
Watching 75 yards away behind the first base bench, Marsh witnessed a violent collision between Selepes and the shortstop as they chased a flyball in the sixth inning against Bishop England in the Sandlapper Shootout.
Selepes took the thudding brunt of the blow in the chest and fell to the ground. Sensing something was very serious, Marsh quickly rushed into the outfield and found a nonresponsive Selepes who appeared to be headed into cardiac arrest.
"I heard that hit more than saw it," she said. "And when I heard it, that is a sound that you should not hear on a baseball field and there are no pads. So when you get that sound of that hit, it was awful. It was literally like somebody hit a balloon that won't pop and smashed it flat and all the air rushed out in half a second. You knew it was bad."
Quick action
She quickly put her years of paramedics training into action. After calling out for emergency services, Marsh and two nurses who just arrived at the ballpark promptly administered CPR (cardiopulmonary resuscitation) and used the AED (automated external defibrillator) to revive Selepes.
Marsh said Lexington County Emergency Medical Services arrived approximately seven minutes after getting the call to transport Selepes to Prisma Health Children's Hospital. She later called it "the longest seven minutes of her life" as she and the nurses worked to save Selepes.
"I've seen broken legs, broken arms, horrible stuff," Marsh said. "In this case, you're literally holding somebody's life in your hands. I hope to never have to do it again, but I would if a life depended on it. It's part of the job."
Marsh visited Selepes before he was released from the hospital. At the hospital, his mother Ashley took a picture of the three of them together.
"The good Lord put me there that day and I knew what to do. Though, there was a lot of praying on that field," she said.
A wakeup call
Days later, Marsh faced another medical crisis – the virus pandemic. She spends her hours now screening patients entering the emergency department and entrances at Prisma Health, but Selepes' injury was a wakeup call.
"What you see patients and family members going through coming in, they're scared," Marsh said. "Patients are going in by themselves because they're not letting visitors in now and you have to explain to them the whys. It was a preparation phase. Dealing with trauma prepares you for the next event you face."