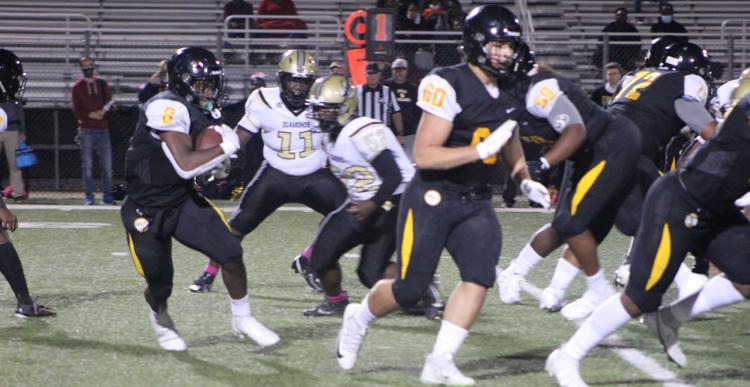 A last-minute scheduling change due to COVID-19 enabled the Yellow Jackets to play at home against a new opponent.
Quarterback Dylan Williams and wide receiver/defensive back Dedrick Starkes made the most of the opportunity. The duo hooked up for two second half touchdown pass plays to rally Irmo to victory.
Williams threw three touchdowns in a contest head coach Aaron Brand called the best game of his career.
"It's the quarterback," Brand said. "The quarterback came over and he wanted to do stuff. He had a plan in his head on how it was going to end and that's just the leadership that he's shown the whole year. That leadership doesn't always result in good play, but he wanted to do things. He wanted to come back and win. He knew we were going to do it. He mentioned that we ought to put Starkes out here and he just went out and made plays."
Starkes also had a third quarter interception to stop a Diamond-Hornet scoring drive and saw extra time on offense due to injuries.
Irmo (3-1, 2-1) jumped out to a 14-0 lead on a three-yard touchdown run by Jayon Chambers in the first quarter and a 16-yard touchdown pass by Dylan Williams to Shamar Langford in the second quarter.
Lower Richland responded with 20 unanswered points. Jeremy Barney had a 1-yard touchdown run and the Diamond-Hornets added a 2-point conversion to make it 14-8 before halftime.
Irmo fumbled the opening kickoff and the Diamond-Hornets had the football at the 35-yard line.
On fourth and 12, quarterback Robert Adams was intercepted by Starkes.
Lower Richland got the ball back and, facing a fourth down, pulled of a fake punt to set up a first down at the 25-yard line. Barney needed just one carry to reach the endzone and tie the game with 4:33 left in the third quarter.
The Diamond Hornets took a 20-14 lead with 9:22 left on a 4-yard keeper by Adams.
Irmo responded with two straight touchdowns. Williams lofted a high pass from 28 yards that Starkes snagged while closely defended for the touchdown.
The PAT put the Yellow Jackets up 21-20 with 7:45 left in the game. With 2:42 left, Williams found Starkes again from 12 yards to add to the lead following the PAT.
"Starkes was the man," Brand said. "We lined Starkes up. If he wasn't a decoy, he was out making the plays. He probably led us in tackles. He had two touchdowns receiving. He's a heck of a player."
Lower Richland was stopped on downs and Irmo ran out the remaining 1:28 for the win.
The Yellow Jackets have moved up its home game with Lugoff-Elgin to next week. Lower Richland (0-3, 0-1) will head to WJ Keenan.
Dutch Fork 55, Lexington 13
Add another streak four-time defending Class 5A champion Dutch Fork extended on Friday.
The win over Lexington gave the nationally-ranked Silver Foxes their eighth consecutive region title. In addition to finishing 4-0 in Region 5-5A play, Dutch Fork also improved on its following streaks:
44th straight game without a loss
43rd straight win against in-state teams
27th straight region win
27th straight road win
Dutch Fork (4-0, 4-0) jumped out to a 28-0 lead in the first half. Quarterback Will Taylor threw 2 of his 3 touchdown passes to Elliott Spencer and Devin Hyatt, Antonio Williams had a 77-yard punt return for a score and Jarvis Green had one of his two 1-yard touchdown runs.
Lexington (0-2, 0-2) got on the board in the third quarter on a 72-yard touchdown pass from Reese Marcum to Landon McMahon. Dutch Fork answered with 27 unanswered points, including 2 fumble recoveries for touchdowns by Travis Batts and Nick Wright in a span of 3 minutes.
The Silver Foxes return home for a non-region game against Spring Valley next week, while Lexington travels to Chapin.
Nation Ford 35, White Knoll 6
The Timberwolves remained winless on the season following the non-region loss to the Falcons at home.
The lone score came with 5:58 left in the second quarter on a 12-yard touchdown pass from Kennedy Ramsey to TJ Peebles.
White Knoll (0-4, 0-2) plays host to River Bluff next week.
Gilbert 28, Strom Thurmond 21
Prior to head coach Chad Leaphart's arrival in 2016, the Indians had never won a region title.
On Friday, they traveled to Johnston and claimed their third Region 5-3A title in 5 seasons under Leaphart.
The two teams exchanged touchdowns to exit the second half tied at 14-14. A long run by Colton Mason to open the second half set up a 12-yard touchdown by Izayah Whiteside to Jaden Allen-Hendrix on fourth down to put the Indians up 20-14.
In the fourth quarter, Mason broke free for a 26-yard touchdown run. The 2-point conversion made it 28-14 with 8:55 left.
The Rebels quickly scored on a 68-yard touchdown pass by Patrick Westbrook with 7:58 remaining. They had a final opportunity to score, but the Indians regained possession and ran out the clock.
Mason finished with 228 rushing yards, Whiteside was 5-11 passing for 107 yards and Gage Gunter had 4 receptions for 95 yards.
Gilbert (4-0, 4-0) returns for "Homecoming" next week to face Swansea, which is playing its first game since Oct. 1.
River Bluff 37, Chapin 7
Cooper Johns rushed for 2 touchdowns and the River Bluff defense forced 5 turnovers in Friday's win in The Swamp.
Greg Walker accounted for 1 of the turnovers with an interception return for a touchdown. Riley Myers rushed for 134 yards and a touchdown and for River Bluff (1-1, 1-1) which travels to White Knoll next week.
Jayden Bradford threw for 159 yards and a touchdown for the Eagles (2-2, 1-2), who play host to Lexington next week.
Pelion 34, Barnwell 26
The Panthers returned to action for the first time since Sept. 25 and came away with an upset win over the defending Class 2A Lower State champions.
Azwan James accounted for 2 touchdowns, including an 80-yard kickoff return for a score. The Panthers' defense also accounted for 2 interception returns for touchdowns, 1 by Jacob Osmansk, who had a 62-yard fake punt for a TD, and the other by Michael Fields.
Pelion (1-1, 1-0) plays host Edisto next week.
Gray Collegiate 59, Eau Claire 0
The fourth ranked War Eagles moved to within a victory of winning the Region 3-2A title with the victory over the Shamrocks.
KZ Adams rushed for 104 yards and 3 touchdowns and Tre Robinson threw for 165 yards and 2 TDs, both to Chris Rhone. He had 4 receptions for 109 yards.
Gray Collegiate (4-0, 4-0) is scheduled to travel to Newberry, whose past 2 games were postponed due to covid-19 exposure.
OTHER LEXINGTON COUNTY AND TOWN OF IRMO SCORES
South Aiken 17, Airport 14
Laurens Academy 54, WW King 0
Wardlaw Academy 54, Northside Christian 16
Irmo 28, Lower Richland 20