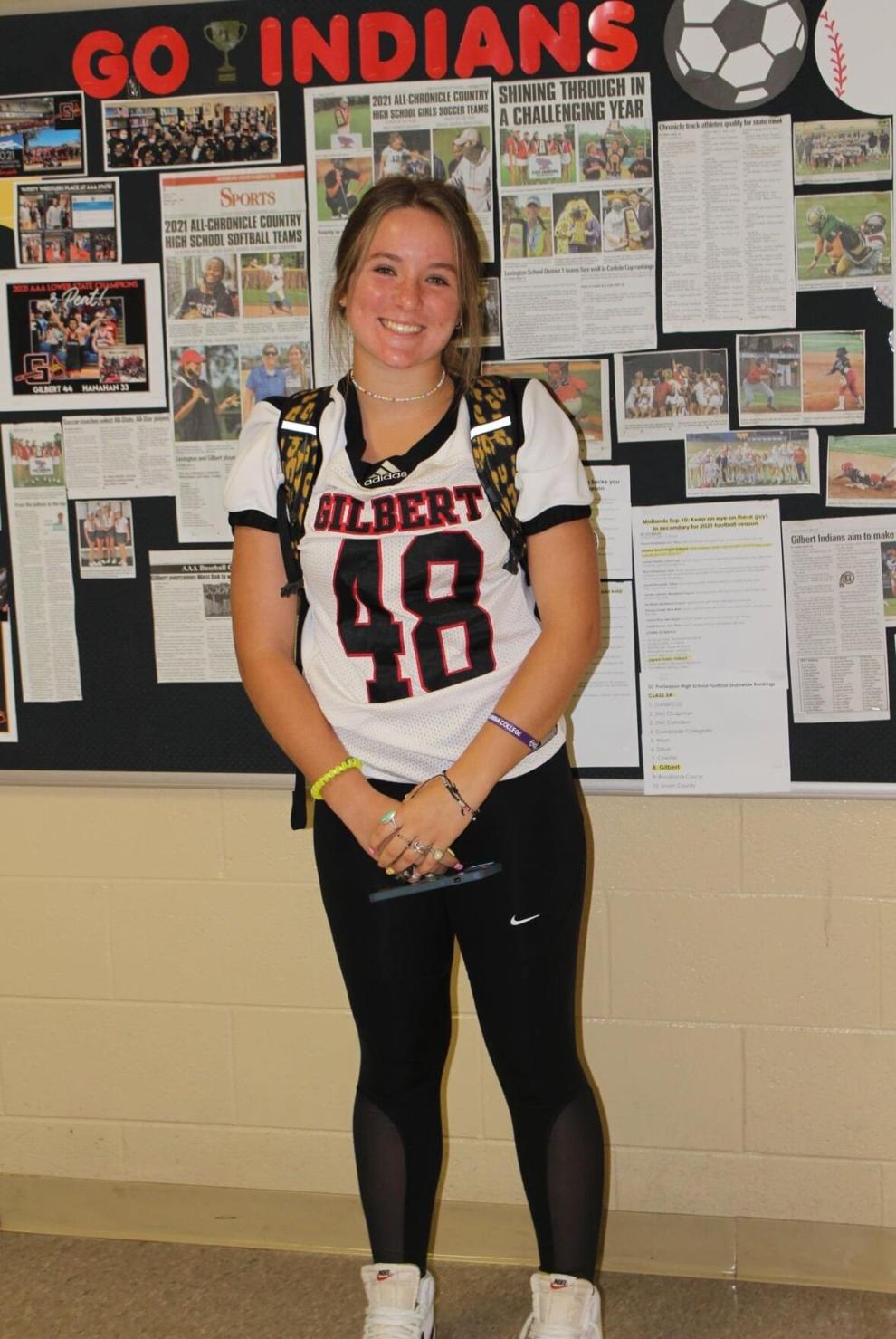 White Knoll High School is not the only Lexington School District One member with a female placekicker on a football team.
Riley Barnes made history last Friday for Gilbert High School. The team's first female player, the All-State junior in soccer, kicked two extra points in a 48-47 victory at Hartsville.
"I was super happy that we won," Barnes said. "I was super happy I made the second one, but I couldn't have taken those without everyone else participating and getting those touchdowns and defense coming through on that last play of the game. (The Indians stopped Hartsville short on the potential go-ahead two-point conversion with 15 seconds left). So obviously we couldn't have done it without them."
Much like Maleah Perry at White Knoll, Barnes caught the eye of the head football coach. However, her talent was not brought to Chad Leaphart's attention by watching Barnes' on-field play as the goals' leader for Gilbert girls' soccer.
"Maybe a year ago, she was out here just messing around at the practice field probably practicing soccer, but had a football and she was kicking extra points and field goals," he said. "And so, I remember her doing that and seeing that on Twitter and so, when we got into the situation that we did where our kickers were quarantined, she was kind of one of the first people that popped in my mind that hey, 'we can kind of talk to her and get her out of the hallway so to speak and get out here and kick for us because I seen her make them on the video."
While not necessarily a diehard football fan, Barnes handled the impromptu "audition" with aplomb to earn a spot on the team roster. Her services were especially needed given the Indians did not attempt to kick an extra point on their two touchdowns in a 14-12 loss to Lexington.
Despite fighting "super nerves" while putting on shoulder pads and having to accustom herself with live bodies "going after her" while kicking, Barnes got through her first game coming away with increased confidence.
"It's definitely different than like shooting the ball," said Barnes comparing kicking in soccer to football. "But, it kind of has the same concept I feel like as taking a free kick."
Barnes' current kicking range in football is about 25 yards. She acknowledged this may be her lone season playing football, but believes the experience will only improve her soccer skills.
"I feel like I'm definitely going to be quicker and be able work better under pressure when it comes down to those moments," she said.
As for being a trailblazer, Barnes said It's great to show "a girl can do everything that a guy can do".
Gilbert (1-1) returns to action Friday at Cheraw.