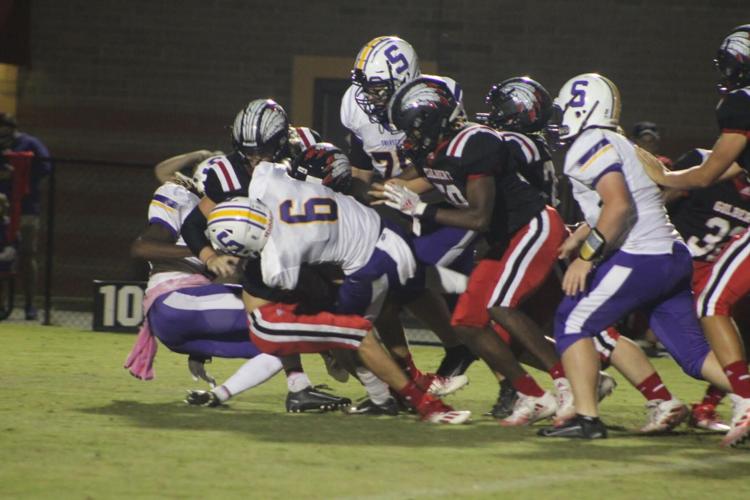 Friday's "Homecoming" contest had letdown written all over for it for the Gilbert football team.
Having already clinched the Region 5-3A title, the Indians faced a Swansea team playing its first team in three weeks.
It only took a half for fifth ranked Gilbert to pull away from the visiting Tigers. Led by quarterback Izayah Whiteside's four touchdown passes and the defense forcing four turnovers, all in the first half, the Indians rolled to a 55-7 victory.
It was the 11th consecutive region win for Gilbert (5-0, 5-0), who will have homefield advantage through the first two rounds of the Class 3A playoffs. More important for head coach Chad Leaphart was seeing his team finish region play in dominant fashion.
"I'm proud of my guys the way they came out," said Leaphart, who's now one win away from tying Barry Harley for second in school victories with 47 behind Marty Woolbright (67). "We talked about finishing region the right way and that's what they did tonight. They really came out focused and motivated and took care of business early," he said.
Running back Colton Mason scored all three of his rushing touchdowns in the first quarter. He finished with 105 yards to surpass 1,000 rushing yards for the season.
The Indians' next four scores came off Swansea fumbles recovered by the defense. Quarterback Izayah Whiteside's three touchdown passes and Gray Leaphart rushed for a score to make it 48-0.
Swansea quarterback Andre Savage had a 15-yard touchdown run for the Tigers' lone score with 2:41 left. Just before halftime, Whiteside found an open Chance Jennings for second touchdown of the quarter, this time for 52 yards.
Whiteside finished 11-16 for 277 yards. At halftime, Makayla Frye was selected "Homecoming Queen".
Gilbert will look to clinch its second undefeated regular season in school history next week at Laurens. Swansea (0-2, 0-2) will travel to Johnston to play Strom Thurmond.
Dutch Fork 21, Spring Valley 0
Despite having its lowest point total since last year's 27-27 tie to Mallard Creek, four-time defending Class 5A champion Dutch Fork posted its 13th shutout since 2016.
Running back Jarvis Green rushed for 93 yards and two touchdowns and Antonio Williams threw a 13-yard touchdown to Elijah Spencer. Williams also had seven receptions for 126 yards.
Quarterback Will Taylor threw for 218 yards in his first game not throwing a touchdown for Dutch Fork (5-0, 4-0). Defensively, the Silver Foxes held the Vikings to 178 total yards.
The win extended Dutch Fork's undefeated streak to 45 games. It was also their 4fourth consecutive in-state victory.
Dutch Fork will now look to win its 27th straight road victory when it closes out the regular season at South Pointe.
Gray Collegiate 34, Newberry 28
KZ Adams rushed for 310 yards and four touchdowns and had an interception on defense to lead the second ranked War Eagles to their third straight region title.
Gray Collegiate (5-0, 5-0) will play their final two regular-season games in non-region play against sister charter schools. The War Eagles travel to Mount Pleasant to face Oceanside Collegiate.
Chapin 35, Lexington 21
Hunter Sheppard threw for 220 yards and three touchdowns, two to Zavier Short who had eight receptions for 151 yards, as the Eagles defeated the Wildcats for the first time since 1996.
Lexington (0-3, 0-2) took an early lead after Isaiah Boyd recovered a fumble by Sheppard and returned it for the score.
Chapin (3-2, 2-2) answered with 28 unanswered points, 21 in the first quarter. Bennett Galloway had a 53 of his 124 rushing yards on a touchdown run to tie the game. Sheppard found Zavier Short for a touchdown and Justin Powe returned an interception 30 yards for a score.
A touchdown pass from Sheppard to Matthew Becker extended the lead to 28-7 in the second quarter. Lexington answered with a 31-yard touchdown pass from Marcum Reese to Mark Deason with 5:02 left in the second quarter to make it 28-14.
With 1:09 left in the first half, Sheppard threw his second touchdown to Short for 39 yards to make it 35-14 at the halftime.
The lone second half score was a 23-yard touchdown pass from Marcum to Deason. Deason finished with 146 passing yards for the Wildcats, who travel to White Knoll needing a win to keep alive its playoff hopes.
Chapin plays host to Lexington-Richland District 5 rival Irmo next week.
Irmo 33, Lugoff-Elgin 14
The Yellowjackets improved to 4-1 overall and 3-1 in Region 4-4A following the victory over the Demons.
Dylan Williams had a touchdown and Zeke Haire returned an interception for a score in the first half for Irmo, who are tied for second place with Westwood for the final region playoff spot.
The Yellow Jackets travel to Chapin next week.
Pelion 27, Edisto 0
The Panthers remain undefeated on the season following the victory over the Cougars. Azwan Jones rushed for 2 touchdowns and Jacob Ozmanski had a 58-yard TD run and also threw a touchdown pass to Julian Tyler in the victory.
Pelion (2-1, 2-0) travels to Silver Bluff with an opportunity to clinch a playoff berth and share of the Region 5-2A title.
Brookland-Cayce 24, Orangeburg-Wilkinson 0
The Bearcats needed a victory of 19 or more points to clinch the second playoff berth out of Region 5-3A.
They accomplished that with a road win at the Bruins' Den. Will Way rushed for two touchdowns, William Young had a 37-yard field goal and Tanner Staton threw a 50-yard touchdown pass to Jordan Wise.
B-C (3-2, 2-2) will play host to archrival Airport next week.
Chesnee 31, Airport 20
SATURDAY'S GAMES
Batesburg-Leesville 52, Saluda 28
Marvin Gantt rushed for 175 yards and 3 touchdowns as the seventh ranked Panthers capitalized off 9 turnovers to defeat the sixth ranked and defending Class 2A champion Tigers.
Batesburg-Leesville (2-1, 2-1) was playing its first game in 2 weeks due to quarantine following covid-19 exposure. It jumped out to a 26-0 lead in the first quarter and led as many as 34 points.
The win moved the Panthers a 1/2 game of second place in Region 3-2A. Only 2 teams qualify for the post-season out of each region and second ranked Gray Collegiate clinched the region title Friday.
Alkamus Johnson recovered a blocked punt in the endzone for a touchdown for Saluda (2-2, 2-2), which next plays Newberry. Batesburg-Leesville travels to Columbia.
Northside Christian 42, New Hope Leadership Academy 20
Quarterback Max McKenna threw 5 touchdowns and rushed for another and Jake Daniels had 2 interceptions to lead the Crusaders in the non-SCISA contest.
Northside Christian (3-3) will seek its second winning season in program history this Friday when they visit Palmetto Christian Academy in Mount Pleasant.