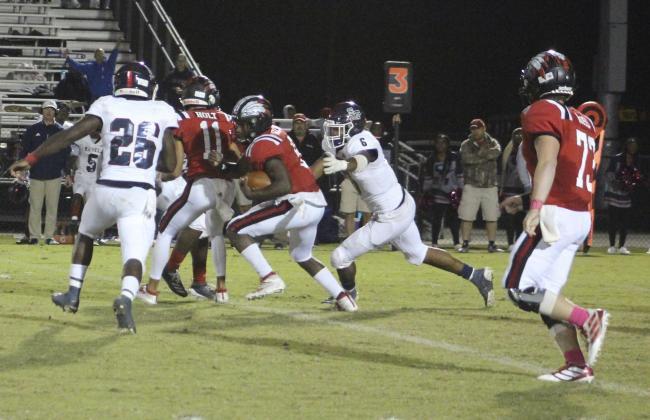 On a night of Top Five upsets in Class 3A, it appeared fifth ranked Gilbert was about to join the fray.
Trailing by nine points entering the fourth quarter against Strom Thurmond, however, the Indians had one more scoring run at its disposal.
Quarterback Jy Tolen threw two touchdown passes to Alec Holt in the final seven minutes and David Perry intercepted a pass late to lift Gilbert to the 30-26 comeback victory.
The victory not only snapped the Rebels' seven-game winning streak, it also put the Indians (7-1, 3-0) in position to claim their second Region 5-3A title in three years, and second in school history with a victory next week at Edisto.
In addition, Gilbert could potentially enjoy its highest-ever ranking in next week's polls. Top-ranked Dillon, third ranked Chester and fourth ranked May River all fell to defeat Friday.
"There was certainly a time there in the fourth quarter where we were down and out," Gilbert head coach Chad Leaphart said. "Our defense came up big when we needed them too and our offense came through for us at the end."
Strom Thurmond (7-2, 2-1) took a 7-0 lead in the first quarter on a 15-yard touchdown pass from Jaquan Harris to Phillip Merriweather. Gilbert answered with 17 unanswered points, starting consecutive touchdown runs of one and six yards by Dre Cook in the first quarter, and ending with a 33-yard field goal in the second quarter by Rajan Cheema.
Gilbert maintained a 17-7 lead into halftime. The third quarter started with fumbles on the opening kickoff and first drive of the second half for the Indians.
The latter led to a 19-yard touchdown run by Harris, although the PAT was missed by Ray Ouzts. With 35 seconds left in the third quarter, Devron Williams scored from four yards to put the Rebels on top 20-17.
With 9:34 left in the fourth, Strom Thurmond capitalized off some good fortune. Following a pass interference penalty on Gilbert, Harris dropped back and lofted a pass which Jay Baker caught off the deflection of a teammate and scampered into the endzone for the 52-yard score.
Strom Thurmond missed the PAT, keeping the score at 26-17. Back came the Indians as Holt found Tolen for an eight-yard touchdown to bring them within 26-14.
Both teams were forced to turn the ball over on downs. After Gilbert got possession at their own 21, Tolen and Holt got together on a fourth down conversion. The Gilbert then paired again downfield for the go-ahead touchdown pass play from 50 yards with 1:15 left.
Strom Thurmond had a final possession, but Harris was intercepted by Perry to end the threat.
Tolen finished with 217 passing yards and the two TDs in the fourth quarter. He also rushed for 65 yards.
Holt had four receptions for 87 yards to go with his two scores.
This marked just the third win in 10 meetings over the Rebels by Gilbert, all with Leaphart at the helm.
"We have had some big wins, since I have been at Gilbert and this one is certainly up there," he said. "Our guys have incredible heart. They work so hard all year for our program to be successful, so they are fully invested and will not give up and they will fight until the end. Everybody kept believing and kept fighting and we found a way."