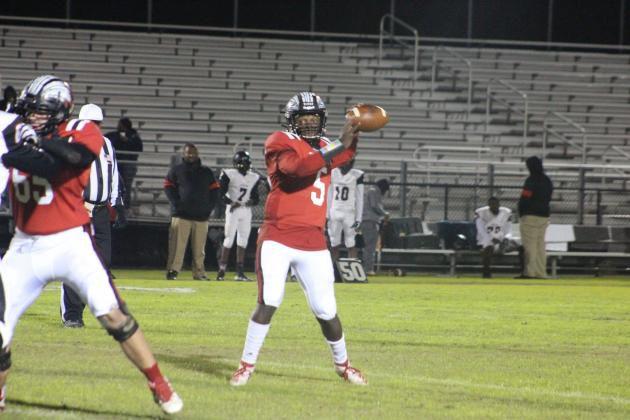 Gilbert quarterback Jy Tolen was already anticipating picking up an award Thursday at the S.C. Football Coaches Association's annual Palmetto Champions banquet at Seawell's Restaurant.
A day earlier, he received another unexpected prestigious honor. Tolen was added to the South team at the Touchstone Energy Cooperative All-Star Bowl taking place Dec. 14 at Doug Shaw Stadium in Myrtle Beach.
It was first reported by South Carolina recruiting guru Jim Baxter of @SCVarsity on Twitter and confirmed again by Indians head coach Chad Leaphart.
"I am very excited for Jy," said Leaphart, who was originally slated to coach Tolen at the Dec. 20 Columbia Metro Bowl at Brookland-Cayce High School. "He is very deserving of the honor, and his numbers this year show that. Over 4,000 yards passing and 47 TDs to three INTs. It'll be a great opportunity to have some more college coaches take a look at him as well. We are all very proud of him."
The senior quarterback replaced Mason Garcia of Carolina Forest who was added to the South Carolina Shrine Bowl roster. He replaces Myrtle Beach quarterback and South Carolina commit Luke Doty.
Tolen threw for 4,046 yards and 47 touchdowns and rushed for three scores in leading the Indians to an 11-2 record and second region title in three years. He was named the Palmetto Champions Class 3A Lower State Back of the Year and will vie for the overall award with the seven Upper and Lower State Back of the Year recipients in the other classifications.
Tolen joins a South roster which already includes quarterback Tyler Olenchuk and offensive linemen Ta'Chawn Brooks, both of defending three-time Class 5A champion Dutch Fork, defensive tackle Garrett Huyck and offensive lineman Josh Taylor (both of Chapin), offensive linemen Walker Anderson (Lexington) and Tradd Castles (Brookland-Cayce), placekicker Luis Orellana (White Knoll), tight end Jacob Lucas (Pelion), running back Nanders Lawrence (Airport) and wide receivers Alec Holt (Gilbert) and Michael Jones (Swansea).
Johnsonville head coach Ken Cribb will lead the South team. His coaching staff is prominent with Lexington County head coaches, including Perry Woolbright (Lexington), Dann Holland (Pelion) and Rusty Charpia (Brookland-Cayce) and assistant coaches Mark Cagle (Gilbert) and Scott Stogner (Chapin).
As for Tolen's place in the Columbia Metro Senior Bowl, it will be filled by an Indian teammate. Leaphart said Thursday wide receiver Jamais Holloway has been added to the West roster as an athlete and Saluda's Noah Bell will move to the quarterback position.
Holloway led Gilbert in receptions (57) to go with 670 receiving yards and three TDs this past season. He also rushed for 267 yards and two touchdowns, and tallied 41 tackles and two interceptions on defense.