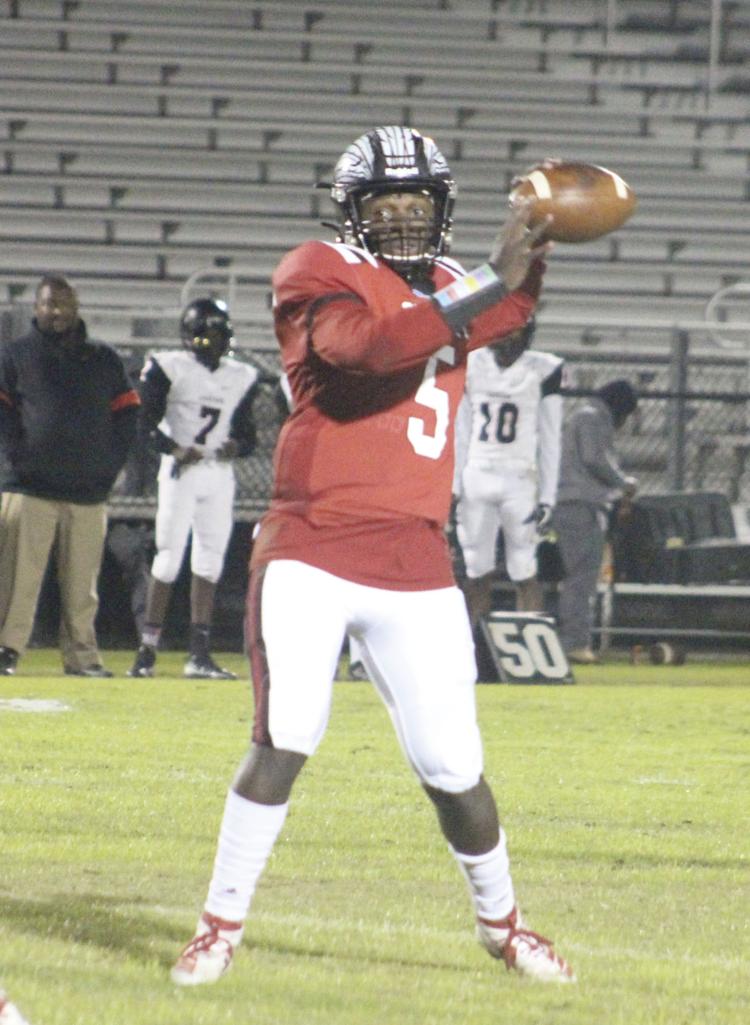 Jy Tolen threw five touchdown passes in the first half and three different players scored two touchdowns each to lead Gilbert to a 56-6 rout over Ridgeland-Hardeeville in the opening round of the Class 3A playoffs.
Tolen opened the game with the first of 2 touchdown passes to Alec Holt. On Tolen's 2nd touchdown, his pass deflected off the Jaguars' defender and was caught in the endzone by Blake Thomas for an 8-yard touchdown.
Ja'Mais Holloway had a 27-yard touchdown reception and Holt closed out the 1st quarter with a 63-yard touchdown reception. After consecutive touchdowns by Dre Harris in the 2nd quarter on a 36-yard reception and 13-yard scoring run, Holloway picked off the pass from Antonio Chaneyfield and returned it for a touchdown with 16 seconds left in the 1st half.
Alex Dinkins added a 19-yard touchdown run in the 3rd quarter. Ridgeland-Hardeeville had a 2-yard touchdown run by Hamid Brown with 2:48 left to close out the scoring.
Tolen finished with 336 passing yards and Holt had 4 receptions for 137 yards.
The win gave Gilbert (10-1) its 3rd 10-win season in 4 years under head coach Chad Leaphart. Prior to Leaphart's return to his alma mater, the Indians had just 1 10-win season.
The Indians will next play host to Lake City, which defeated Bishop England 14-7 on the road.
River Bluff 42, West Ashley 7
Braden Walker rushed for 4 touchdowns in the 1st half and finished with 264 yards as the Gators won their 2nd home playoff game in school history.
The Shrine Bowl and commit to The Citadel scored from 24, 2 and 76 yards and 1 yards as River Bluff (8-3) took a 28-0 halftime lead. Quarterback Jackson Stone threw 2 touchdowns in the 3rd quarter to Tyson Trottier and Josh Cranshaw to finish with 150 passing yards.
West Ashley got a 8-yard touchdown run by Amari Jenkins with 12 seconds left to close out the scoring. Kevin Culcleasure led all tacklers with 9.5 total tackles, 5 solo, a tackle for loss, and was in on a sack. Jakari Davis had 8 tackles (6 solo), a sack, and 2.5 tackles for loss.
Austin Glad had his 5th interception of the season.
River Bluff heads to Carolina Forest for the 2nd round matchup. It marks a return to the Grand Strand for Gators' head coach C. Blair Hardin, who spent 3 seasons at North Myrtle Beach.
Dutch Fork 55, Chapin 10
For the 2nd time this season, the Silver Foxes defeated the Eagles by the same score.
Dutch Fork quarterback Ty Olenchuk threw for 281 yards and 3 touchdowns, 2 to Mason Wilkinson, and Jon Hall rushed for 2 scores in the victory. The win extended 3 streaks for the Silver Foxes:
- 36th consecutive game without a loss
- 35th straight victory over a South Carolina-based foe
- 16th straight post-season win
Defensively, DiMarco Johnson had 2 interceptions, including a school-record 93-yard return for a touchdown.
Chapin's lone touchdown came on a 1-yard run by quarterback Roger Pedroni. He threw for 174 yards, but was sacked 3 times.
Up next for Dutch Fork (10-0-1) is Wando, a 30-21 winner over Conway, at home.
Gray Collegiate 42, Fox Creek 7
Hunter Helms threw for 363 and 4 touchdowns, 3 to Omarian Dollison, and K.Z. Adams rushed for 159 yards and 2 touchdowns to lead the War Eagles in the 1st round Class 2A contest.
Up next for Gray Collegiate (9-2) is St. Joseph's Catholic, a 48-27 winner over Lee Central.
Batesburg-Leesville 20, Central 6
The Panthers (7-4) advanced to the 2nd round of the Class 2A playoffs and will travel to Southside Christian for the 2nd round next week.
The Sabres defeated Ninety-Six 49-7 in the 1st round.
OTHER CHRONICLE COUNTRY SCORES
May River 59, Swansea 20
Fort Dorchester 31, Lexington 3
Airport 21, Colleton County 14