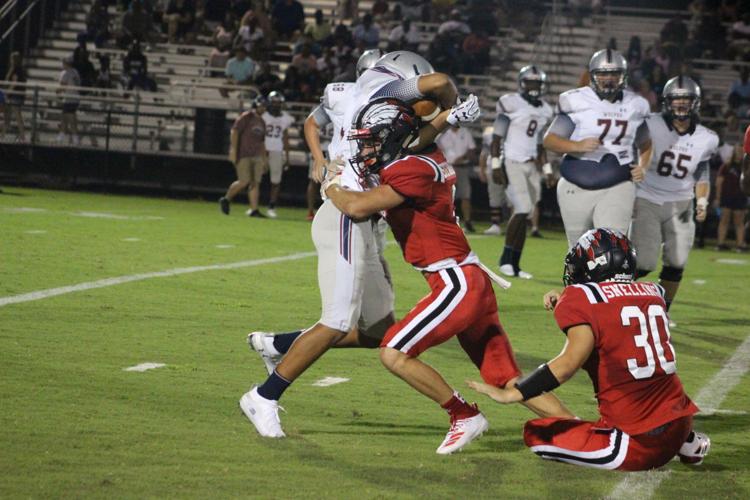 An upset-filled Week 8 in Class 3A has enabled Gilbert and Camden to move up in this week's S.C. Prep Football Media Polls.
The Indians jumped two places to number three following its comeback 30-26 win over 10th ranked Strom Thurmond. Chapman moved into the top spot followed by Aynor, which upended previous number one Dillon, and the Bulldogs who defeated defending state champion Chester.
Gilbert (7-1, 3-0) can clinch its second region title in three years and second in school history with a win Friday at Edisto. Camden (7-1, 1-1) travels to Fort Mill to face Indian Land.
Undefeated A.C. Flora is also ranked fourth this week in the Class 4A polls. The Falcons (8-0, 3-0) play host to Lower Richland (4-4, 3-0) Friday at Memorial Stadium in a contest for first place in Region 4-4A.
Things remained unchanged in Class 5A with three-time defending Class 5A champion Dutch Fork still number one and River Bluff ranked seventh. The Silver Foxes (8-0-1, 3-0) are idle after clinching a 10th consecutive region title, while the Gators (7-1, 1-1) play host to White Knoll in The Swamp.
Gray Collegiate (5-3, 2-0) also remained in place at number nine in Class 2A. The War Eagles can clinch the Region 3-2A title with a win versus Eau Claire at Richland 1 Stadium on the campus of W.J. Keenan High School.
S.C. PREP FOOTBALL MEDIA POLL
(CLASS 2A)
1. Abbeville (11)
2. Barnwell
3. Southside Christian
4. Oceanside Collegiate
5. Saluda
6. Timberland
7. Andrew Jackson
8. Bamberg-Ehrhardt
9. Gray Collegiate
10. Woodland
(CLASS 3A)
1. Chapman (11)
2. Aynor
3. Gilbert
4. Camden
5. Dillon
6. Wade Hampton
7. Chester
8. May River
9. Union County
10. Strom Thurmond
(CLASS 4A)
1. Myrtle Beach (11)
2. Daniel
3. South Pointe
4. A.C. Flora
5. Eastside
6. Belton Honea-Path
7. (tie) Wren & Wilson
9. Hartsville
10. Greenville
(CLASS 5A)
1. Dutch Fork
2. Dorman
3. Fort Dorchester
4. Byrnes
5. Sumter
6. Clover
7. River Bluff
8. Carolina Forest
9. T. L. Hanna
10. Gaffney