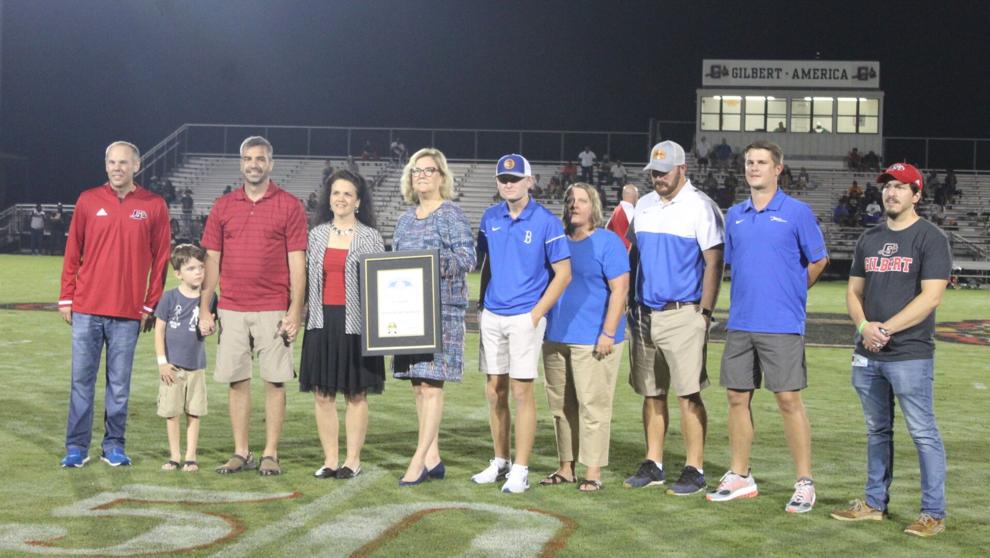 Fans of Gilbert High School football waited an extra 90 minutes due to bad weather to see their team for the first time in 2021.
Despite the game ending close to midnight, it proved worthwhile as the Indians rolled to a 55-29 victory.
The crowd also got to witness one of its "heroes" receive South Carolina's highest civilian honor.
TJ Marsh, whose quick actions helped save the life of a JF Byrnes baseball player last year, received the Order of the Palmetto during halftime of the game. Established in 1971 by former governor John West, the award recognizes a person's lifetime achievements and contributions to the state of South Carolina.
Marsh, now working at River Bluff High School, was nominated by Lexington School District 1 Athletics Director David Bennett and presented the award by SC House Rep. Paula Calhoun. In attention for the ceremony was JF Byrnes' outfielder Grayson Selepes, the player whose life was saved by Marsh.
It was March 8, 2020 during a Sandlapper Shootout game at Gilbert between the Rebels and Bishop England. In the sixth inning, Selepes was chasing a flyball when he collided with the shortstop.
The violent collision left Selepes unconscious on the ground. Watching 75 feet away behind the first base bench while working as a supplemental athletics trainer, Marsh rushed into action sensing something serious.
"That is a sound you should not hear on a baseball field," said Marsh in an April 2020 interview. "It was literally like somebody hit a balloon that won't pop and smashed it flat and all the air rushed out."
Seeing Selepes headed into cardiac arrest, Marsh put her years of paramedics training and 10 years at Gilbert as a Prisma Health employee into action.
She called for emergency services and with two nurses gave CPR (cardiopulmonary resuscitation) and the AED (automated external defibrillator) to revive Selepes.
Lexington County Emergency Medical Services arrived seven minutes later to take Selepes to Prisma Health Children's Hospital. She called it the longest seven minutes of her life.
Selepes was able to recover and returned to Gilbert Friday along with his mother, Ashley, and head coach Michael Maus.
"This is a great honor," Marsh said. "I'm grateful to have been chosen but also humbled, as I was just doing my job. I will always emphasize that while I played a large part in saving Grayson, there are others who were there as well at the perfect time and place for a positive outcome. It truly took a village that day. And for that I will always be thankful."