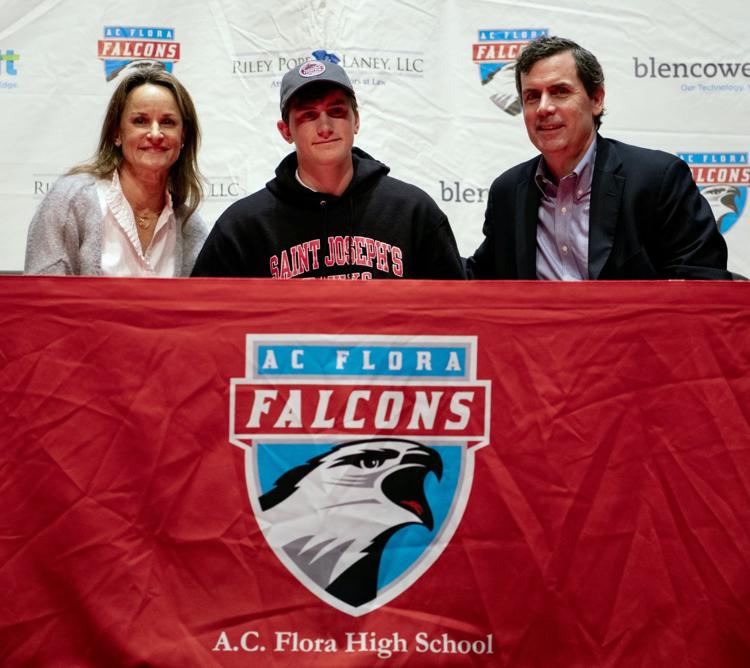 William King made history for the sport of lacrosse in the Midlands area when he accepted a scholarship offer from St. Joseph's University on National Signing Day.
King, a senior offensive attack, will become the first student-athlete in A.C Flora and Richland School District One history to play NCAA Division 1 lacrosse.
The school held an official ceremony for King and Dotorian Best on Feb. 8. Best announced his intentions to play football at Wingate University.
When William closed the deal, the first emotion that he felt was relief. "I was just excited to finally complete the process of selecting a college," he said. King selected St. Joseph's over a number of other schools, including Furman, Belmont-Abbey, Virginia Military Academy, and Hamden-Sydney.
William was named a U.S. Lacrosse All-American and the Upper State Player of the Year after his junior season, leading the Falcons to a 15-3 overall record behind 62 goals and 48 assists in 2019.
Lacrosse is a growing sport in the Midlands, with an increased number of travel clubs and high school varsity programs being implemented in recent years. Nevertheless, lacrosse's popularity in the Midlands and in South Carolina is still behind other areas of the nation, especially the northeast, where the sport is most popular.
King said that his achievement is a message to younger players who aim to reach the next level in the sport.
"This proves that high-level lacrosse can be achieved through hard work," he said.
William will enroll in classes at St. Joseph's in the fall, majoring in biology.
Many considerations were taken into King's final decision.
The school's location was the first factor that drew him closer to choosing the Hawks. "Philadelphia is a really special city. It's beautiful, there is so much history, and there's so much to do," he said.
But Philadelphia is 610 miles northeast of Columbia, so finding a home away from home was most important of all.
King wasn't sure what to expect when visiting campus, but when he had an opportunity to meet his future Hawks teammates, they welcomed him with open wings.
He described the group as tight-knit, inclusive, and hard-driven, just like his current team at A.C Flora. "The freshman hang out with the seniors, and the seniors hang out with the freshman," he said.
King also had the opportunity to meet some of students at the school, describing them as "very welcoming."
St. Joseph's is a private Roman Catholic school with 4,688 enrolled undergraduate students. The main campus sits on a quaint 103-acre plot of land, defined by beautiful Gothic architecture.
While King is headed to Philadelphia in mere months, he still plans on finishing strong at Flora, hoping to win a state championship ring in his last season.
The Falcons fell one game short of playing for the state championship last season, losing in the upper state finals.
King credited his teammates and coaches for reaching his goal. "I would ask a friend to come out and practice with me on off days. They didn't say yes because they had to, they said yes because they wanted to get better and win a state championship for the school," he said.
But reaching the highest level of collegiate lacrosse would have never been possible without his family. William's father, 52-year old George, played club lacrosse at the University of Virginia.
King followed the footsteps of both of his older brothers. George, 23 and Charlie, 20, who both played for Flora under head coach Mike Purdey. Charlie, currently a college sophomore, plays at the University of Tampa.
"My brothers beat me up, toughened me up. But most importantly, they encouraged me to play against better competition," he said.
All three brothers grew up playing baseball, but after George was cut from Flora's team in the seventh grade, their father turned a negative into a positive.
Not wanting to see his oldest son's athletic talent go to waste, he rekindled his passion for the sport. Soon after, Charlie and William followed.
"After that, our family fell in love with the sport," King said.