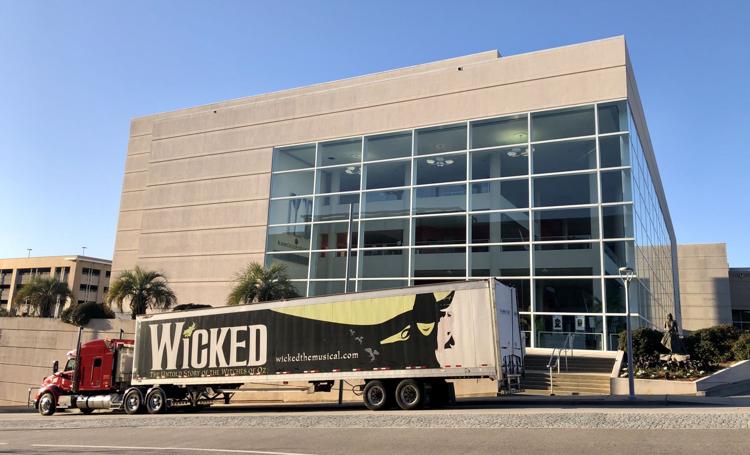 The biggest musical to ever perform in Columbia will debut Wednesday night at the Koger Center. Broadway's Wicked cast will be entertaining crowds from Jan. 22 to Feb. 9. The show is described as "the untold true story of the witches of Oz."
The set was constructed Tuesday, and the cast was expecting to do a run-through Wednesday before their opening night performance.
Broadway in Columbia's Daniel Hampel said the plans for Wicked to travel to the Koger Center have been at least 10 years in the making.
"Wicked sent someone down here to do a sight survey. Turns out the show wouldn't fit," he said. "There were some major modifications that needed to happen to the venue, and a grid needed to be put in above the stage. So all the people at the Koger Center spearheaded an effort to put that in."
Once Wicked representatives came back and said they could move forward, dates were held four years in advance to secure the performance.
There were 14 trucks that brought in all components to build the set, some arriving as early as a week-and-a-half ago, according to Hampel. There were 99 stage hands called in Tuesday who helped put everything together.
Wicked will be the longest-running show the Koger Center has ever hosted, with 24 performances spanning across three weeks. "I can't say 'big deal' in enough ways – this is a big deal for Columbia," Hampel emphasized. "Over 40,000 tickets have been sold and we're heading toward selling out all performances."
Now that the Koger Center's renovations will accommodate larger musicals, Hampel said there are some other big-name shows planned for the near future.
Additional Wicked information including ticket pricing can be found on the Koger Center's website.