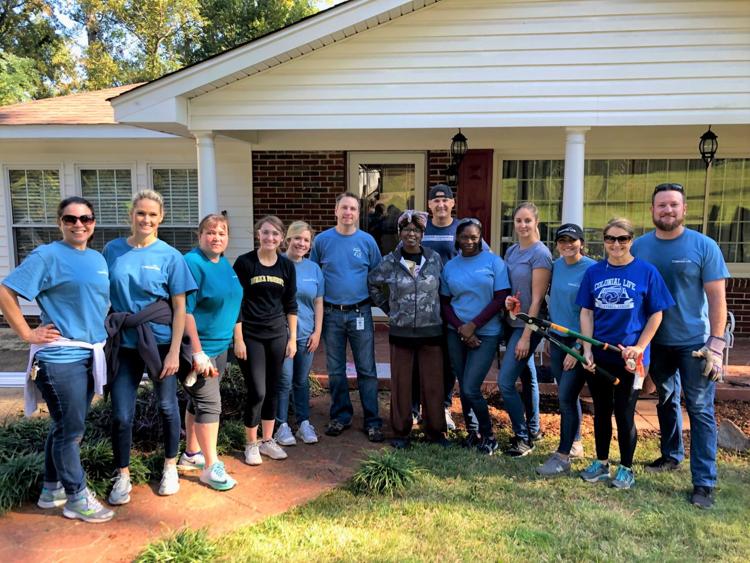 A group of 15 volunteers came together Wednesday morning to drastically renovate, re-landscape, and repair one Columbia home. Colonial Life and Home Works partnered together to complete the renovations in just two days. The partnership is an annual occurrence, and this year's recipient was Terry Douglas.
Home Works' Midlands area construction coordinator Chris Kemp listed the renovations that have taken place. According to Kemp, the group repaired wood rot outside the house, a ceiling leak, replaced the master bathroom toilet, replaced rotted wood on the deck and raised a portion where it was sinking, re-landscaped the front yard, repainted shutters, and replaced the kitchen floor. "We did some critical things and some aesthetic, to make her feel better about her home," he added.
Douglas said she couldn't believe she was selected after applying for the improvements through Home Works. "I have never said 'thank you' so much in my life," she laughed. "I'm just totally happy. I love the crews that have come out. I can see my house coming alive." Douglas retired six years ago, and watches her four-year-old grandson, Harrison, at her home.
There were four groups of volunteers who worked on the home. Wednesday morning's group was staining the deck, planting shrubbery, adding mulch, and working in the kitchen. Colonial Life's Erica Mijon said she and her coworkers have enjoyed taking part in the efforts. "We get to learn new skills like use a nail gun, caulking and stuff. It's fun to take a break from office life and do something rewarding we don't normally get to do in our daily work lives," she said. "And it's great that the homeowner is here with us. It's been wonderful getting to meet Mrs. Douglas."
Kemp agreed that it's a rewarding feeling every time he carries out one of the improvement projects. "It feels good, it feels anew every time. You see that homeowner's face and how they react. I tell them, think of it as God giving you a hug – that's where it's coming from," he said.