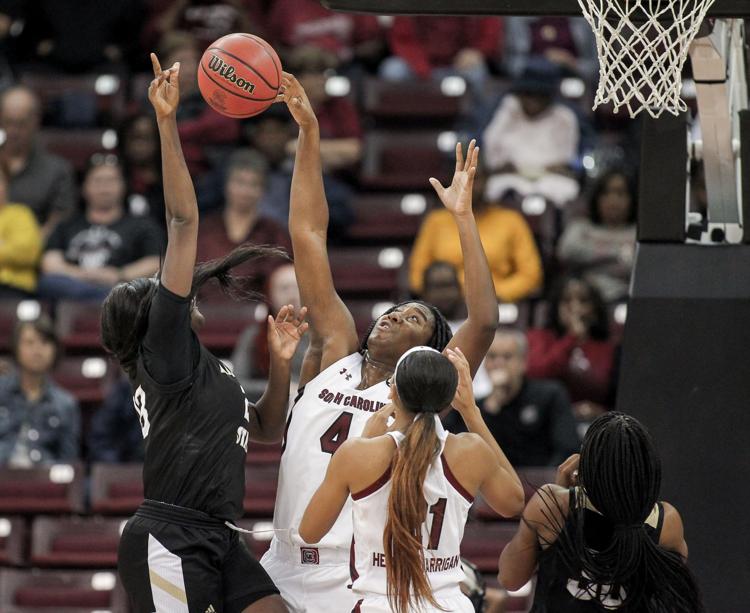 After falling to the Baylor Bears in the Sweet Sixteen last March, the South Carolina Gamecocks women's basketball team has rode a combination of talented youth and tenured veterans to an undefeated 5-0 start to begin the 2019-20 season.
While 80 percent of the season remains, if No. 5 South Carolina can keep up with their current pace in the stat book, the Gamecocks could have a special season.
South Carolina has only been seriously challenged on one occasion this season, when they defeated then No. 4 Maryland 63-54 on the road Nov. 10. In other competitions, the Gamecocks have won by an average of 43.4 points per game.
South Carolina had the nation's No. 1 recruiting class in 2019, and head coach Dawn Staley's efforts in persuasion are paying off for the Gamecocks, as the team's top two scorers are newcomers.
6'5" forward Aliyah Boston leads South Carolina with 13.8 points per game, while 5'9" guard Zia Cooke is No. 2 with 13.0 points. Gamecocks senior forward Mikiah Herbert Harringan bolsters the freshman duo, tied with Cooke for average points per game.
South Carolina's defense has been one of the premier units in the nation this season, as Boston leads the NCAA with individual blocks, with the Gamecocks leading the nation in team blocks.
Boston and Herbert Harringan combine for 36 blocks, accounting for 60 percent of the team's total.
After a blowout 112-32 win against USC Upstate on Thursday, South Carolina's strength of schedule will increase tremendously.
A 2 p.m. Sunday showdown at Clemson will begin the final stretch of the non-conference portion of the schedule for the Gamecocks.
Five out of six of the Gamecocks' remaining opponents before SEC play are from Power Five conferences, including games against No. 2 Baylor and No. 18 Indiana.
Staley and the Gamecocks will be confident headed into the stretch, relying on a tremendous team effort on both sides of the ball.
South Carolina is ranked No. 3 or better in the SEC in defensive rebounds, defensive field goal percentage, and scoring defense. Additionally, they are No. 2 in the SEC in assists, rebounds, offensive field goal percentage, and scoring offense.
Six Gamecocks scored in double figures against USC Upstate, and 10 of 11 players recorded points.