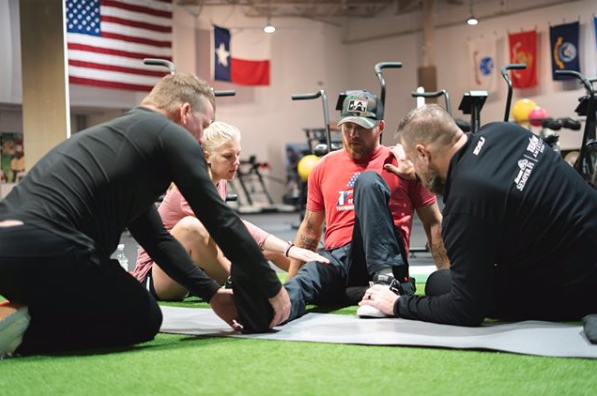 US Marine veteran James "Shrapnel" Crosby was hit by three 120mm rockets while serving in the Iraq war in 2004. The attack left him severely injured and confined to a wheelchair for the next 15 years.
Crosby recently attended the Adaptive Training Foundation's (ATF) nine-week program, designed to help veterans with life-altering injuries find life-fulfilling adaptive training.
After successfully completing the nine week program in Carollton, TX, Crosby graduated from the ATF. He demonstrated his success by walking to the podium for graduation. Crosby joined 13 other veterans for the program's 17th class.
"You can do anything with the power of love. It is the most powerful force you could ever feel," he said.
This is not the first milestone in Crosby's life. With the assistance of Senator John Rockefeller in 2005, he helped pass the Crosby-Puller Combat Wounds Compensation Act, which ensures troops wounded in combat are properly compensated through their recovery.
Crosby is also the co-founder of The American Infidels Veterans Motorcycle Club. The group is dedicated to assisting struggling veterans, promoting the American way of life, and establishing a powerful sense of brotherhood and camaraderie that many veterans crave.
The Adaptive Training Foundation was founded by David Vobora, a five-year veteran of the NFL. Vobora works diligently to provide a program for injured service members that is 100 percent free of charge. When Crosby commented on the program he said it's "definitely where the magic happens."
Crosby was interviewed for 94.3 The Dude's Soldier Salute in August. Read more about his story HERE.
Watch the video of Crosby walking at his graduation HERE.