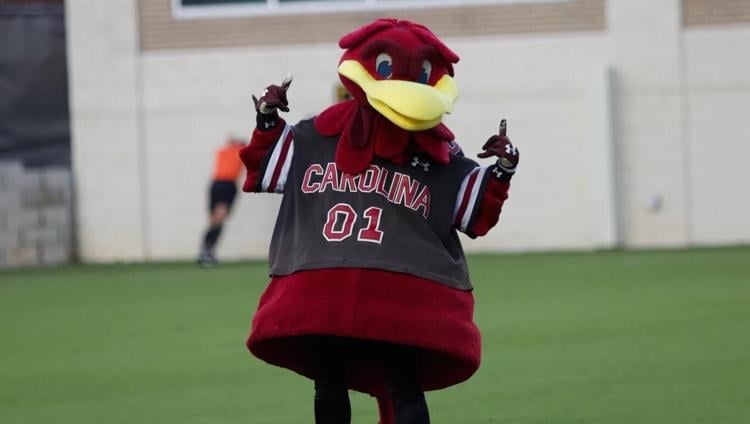 "Cocky," the University of South Carolina's official mascot, turned 40 years old Friday. The current mascot made its debut at the 1980 Homecoming game against Cincinnati.
According to The American Football Database, when originally introduced, Cocky was "booed off the field by students and fans who thought he was not 'dignified enough.'"
John Routh, who served as Cocky from 1980-1982, popularized the mascot and transformed the symbol into what it is now. After Routh's time as Cocky was over, he went on to become Billy the Marlin for the Florida Marlins and won numerous awards for his work. 
Lee Wardlaw, a UofSC alumni who portrayed Cocky from Jan. 2015 through May 2016, said he had a special connection with Routh. "The original Cocky (1980-1982) John Routh, and the second-ever Cocky, Charlie Fitzsimmons (1983-1985) were close friends and fraternity brothers with my father, James Field Wardlaw, while he was in college at USC. Those two still keep up with my father, and I've also had the opportunity to get to know both of them through the years. I would consider both of those guys as great mentors that lead by example," said Wardlaw.
In 1992, UofSC moved Cocky from the Athletics/Public Relations sector to Student Affairs. With this change, Cocky began to be portrayed by a number of students.
Tyler Dillard, a UofSC alumni who served as Cocky from Fall 2014 through Spring 2016, said his favorite events to cover were community service and outreach events. "Elementary school appearances were always a blast. Also, I did 23 weddings and receptions as Cocky and each experience is wildly unique," said Dillard.
Similarly to Dillard, Wardlaw said that birthday parties, weddings, and charity events provided the most interesting experiences. "I would see the excitement of a married couple that met while attending their undergraduate at UofSC and share that pride for the Gamecocks, or a group of children that were born and raised as Gamecocks fans celebrating a birthday party. Getting to play that role and brighten someone's day is what was really special about doing events like these," said Wardlaw. 
He also said performing at sporting events was another huge perk. "Gamecocks fans are a proud and passionate bunch. It's very electrifying to perform Cocky's wild running and dance routine to the tune of "Sandstorm" on the dugout following the conclusion of the seventh-inning stretch to get South Carolina fans cranked up," said Wardlaw.
Even though the mascot is known for its big personality, you'll never hear a chirp out of the bird. According to previous Cockys, mascots have an unwritten rule that when they put on the costume, there is a code of silence.
"It's all about maintaining the fun with fans and others that you interact with while in-character," said Wardlaw.
Dillard said that even in silence, he thinks Cocky is more talkative than himself. "He may not be saying anything with his voice, but using body language and spunky attitude, I feel like Cocky expresses himself better than I do sometimes," said Dillard.
It's not all fun and games though, according to the mascots. Being one of UofSC's most beloved figures comes with some challenges. One of this year's current Cockys, who must stay anonymous until graduation, added that it's not so easy being the mascot in "famously hot" Columbia.
"Imagine putting on a heavy coat in 90 degree weather and running around," said the current Cocky.
Wardlaw also mentioned some of the drawbacks associated with the disguise. "The costume's head consists of a bicycle helmet, and it's really hard to see out of it. There's no fan of any sort in the costume, which makes it extremely, extremely hot," he said.
The most common trait shared between the Cockys is their love for bringing joy to others -- making it all worth it.
"Almost everyone you come in contact with smiles when they see you, it's an amazing feeling. The suit has a magic to it, all fear and embarrassment go away when you become Cocky," said the current Cocky.
"Next time you see Cocky at a game or on campus, make sure you give him a high five or a pat on the beak, because Cocky's there to make your dayva little bit brighter. I miss my days as that giant bird, Go Cocks!" said Dillard.