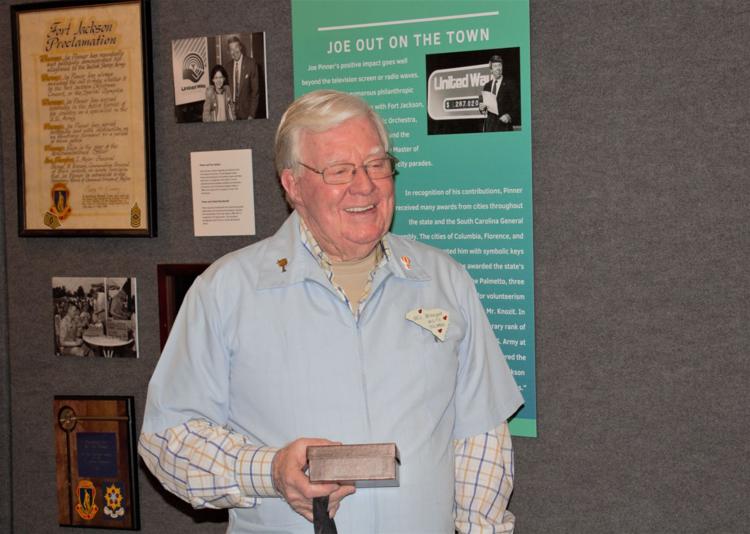 The University of South Carolina's McKissick Museum has a new exhibit highlighting some of the history of television in the Palmetto State. It includes materials from the South Carolina Broadcasters Association Archive, artifacts from the South Carolina State Museum, and Saturday a living legend visited to celebrate its opening.
Longtime WIS broadcaster Joe Pinner is the center of the new exhibit, titled "Not Your Average Joe: Mr. Knozit and the Peabody Award." Pinner, who spent 55 years in television, mostly at WIS in Columbia, loaned memorabilia of his own to the museum and spent Saturday afternoon sharing some of his stories with visitors. Among other things, he told the story of the birth of the Mr. Knozit Show, featuring him in the title role.
"The station wanted to make some extra money," Pinner said with a smile, adding that sponsorship from a wholesale toy distributor made the show's launch possible. "I didn't think the show would last 37 years. We just wanted to make it through Christmas time after it started in September."
Pinner said he and his wife have calculated that approximately 125,000 children appeared on the show during its Peabody Award-winning run, with countless thousands more watching from home.
"It was a blessing to me that continues because I can meet people every day who were on the show when they were five and six years old," Pinner said. "It has been a continuing gift that keeps on giving."
Pinner also served as a weather, news and sports anchor at WIS, and as co-host for WIS News Midday and Today in Carolina.
Curated by UofSC graduate assistant and student Hannah Patton, the exhibit at McKissick is open to the public. More information is available at sc.edu/mckissickmuseum.