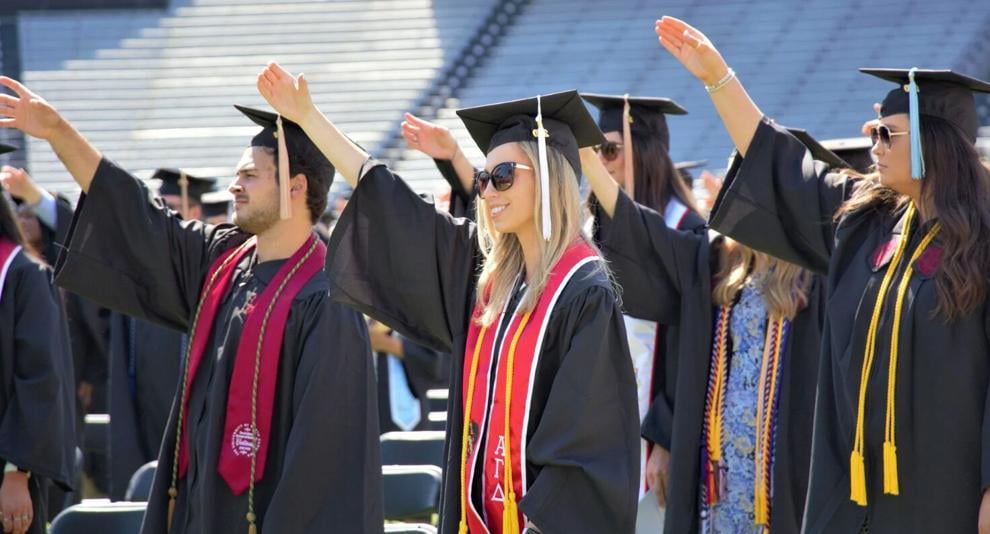 It was a long time coming, but the smiles and cheers from the University of South Carolina Class of 2020 said it was worth it.
The university hosted a special recognition ceremony Saturday at Williams-Brice Stadium for the graduates, whose in-person commencement was canceled last year due to COVID-19.
Dennis Pruitt, the university's vice president for student affairs and vice provost for academic support, presided over the ceremony, joking with the more than 800 graduates in attendance that "I am the temporary head of the University of South Carolina for the next two hours."
"You will forever be known as the COVID Class of 2020," Pruitt told the group, complimenting their resilience, adaptability and kindness through the difficult times of the pandemic. "Thank you for rising to the occasion."
2020-21 Graduate Student Association President Maggie Carson and the past two student body presidents, Luke Rankin and Issy Rushton, also spoke.
"Your time is now. Go and make more history," Rushton told her fellow Gamecocks.
In keeping with university tradition, each graduate in attendance walked across the stage for individual recognition, exchanging a fist bump (with handshakes still discouraged) with Pruitt.
The ceremony was also streamed live online for those unable to attend in person.