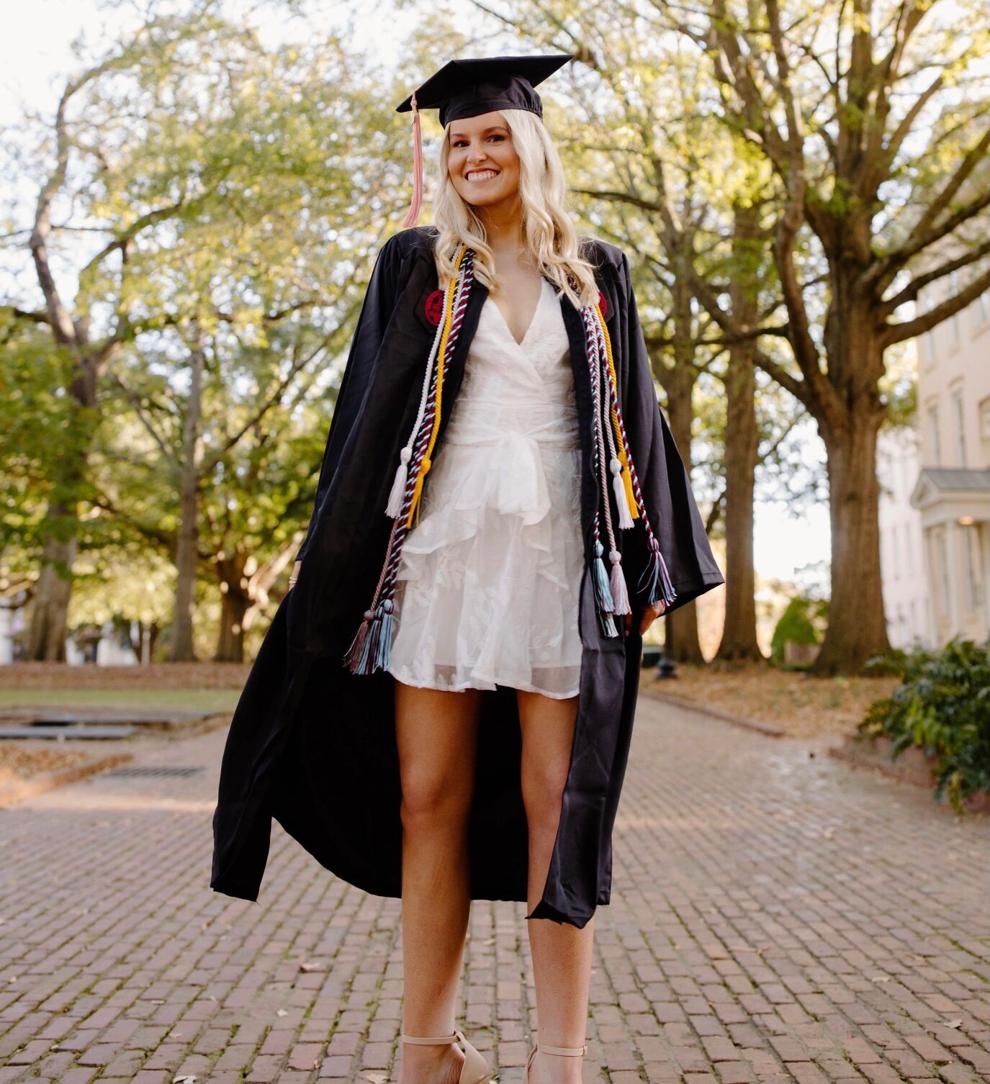 Hallie Sommardahl, a 22-year-old public health major, graduated from the University of South Carolina in December. Two weeks later, she was diagnosed with stage 4 cancer.
Sommardahl was initially diagnosed with mononucleosis last June and after learning it had come back again in late-August, she decided to get more testing done.
"The doctors kept telling me that it was a really aggressive mono that I just couldn't really kick," Sommardahl said.
They ordered a chest CT and found tumors. After a PET scan and biopsy, doctors confirmed that the tumors had spread throughout her body. She was diagnosed with stage 4 Hodgkin's lymphoma shortly after.
"When we got the phone call and they told us that's what it was, it was definitely a surreal moment," Sommardahl said. "It still sometimes doesn't feel like it's happening to me."
Sommardahl's best friend and long-time roommate, Alli Beljan, was one of the first people she told.
"She texted me when she was leaving that doctors appointment and I just remember being really devastated," Beljan said. "Cancer is devastating at any age and at any point in your life, but I think when you've just literally graduated and are excited to start your post-grad life, it's really hard to get a grasp on."
She said hearing the news was hard, but Sommardahl's optimism gave her a lot of hope.
"I think anyone our age would take this and be like 'the world is against me, this sucks, this is terrible,'" Beljan said. "But she has really taken it like, 'I'm gonna do this and I'm gonna fight it and I'm gonna win,' and that kind of attitude and optimism is really reflective of who she is as a person."
Sommardahl is living at home in Richmond, Virginia, during her treatment, so Beljan got together virtually with a group of friends to think of ways to support her throughout treatment.
"Me and her friends made a Google doc with a spreadsheet of ideas. We came up with 12, one for each round of her chemo, to surprise her with every two weeks," Beljan said. "For her first round, all of her friends who knew at the time, recorded little video messages just to let her know we were thinking of her and sent it to her the morning of her first treatment."
Sommardahl said her friends' support gave her the courage to share her diagnosis on social media. The response she received from the post was better than she said she could have ever imagined.
"I've actually had two or three other people around my age that have reached out to me that are also going through Hodgkin's and chemo right now," she said. "It's been so nice to be able to talk to them about it because obviously people are so sympathetic, but nobody else really understands exactly what it's like, other than cancer patients."
Sommardahl will be receiving chemotherapy treatments every two weeks for six months. After treatments, she said she gives herself shots at home to keep her white blood cell count up and prevent infection.
Due to COVID-19, she is not allowed to have anyone with her when she goes to appointments. Sommardahl said she's been using Facetime to keep her family in the loop during those visits.
"It's a long process, but I'm really optimistic that after the six months, hopefully the treatment will work like it's supposed to, and I'll be able to go into remission," Sommardahl said. "From there, I'll have to get checked every three months for the next year to make sure that it stays away."
Sommardahl was planning on starting her first job in the beginning of January, working as a medical assistant at an urgent care facility, but received her cancer diagnosis three days before her start date. Since her treatment has left her immunocompromised, she said she had to put off working for a while.
However, if everything goes according to plan with her treatment, she wants to attend graduate school in the fall and has been in the process of applying to schools.
"I've been looking into ways that I can support other people who are going through this," she said. "I was a public health major at USC, so I've always been really interested in the health field and I feel like this experience has really opened my eyes to what these people are going through."
Sommardahl plans on getting her masters in public health to hopefully become an epidemiologist. "I feel like this experience has made me want to focus more on cancer and hopefully help other people who are in my situation in the future," she said.
Beljan is also planning on continuing her education and is currently applying to law schools. "The two of us have a couple of schools in common, that we've both applied to, so we keep joking that hopefully, eventually we'll wind up in the same city," Beljan said.
Sommardahl's sister set up a GoFundMe to raise funds for chemotherapy treatments and other costs associated with fighting the disease. "Insurance covers a lot of the medical treatment, but cancer itself is such an expensive process to go through," she said. "I have been so thankful for all of the people who have donated and I was blown away by how much support I have received."