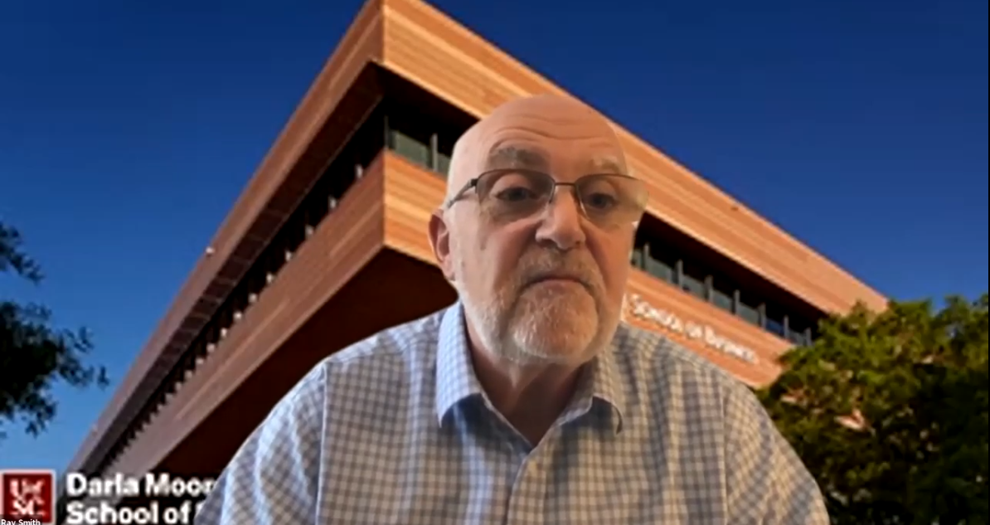 The sudden end of an executive education class at the Darla Moore School of Business has turned into the beginning of a new program to help the local business community.
The University of South Carolina's business school was halfway through a class on advanced business analytics for a group of Army personnel when the campus closed to help prevent the spread of coronavirus. Teachers and students quickly pivoted to a successful online class. But as local businesses continued to close, associate dean Ray Smith started thinking of ways to help.
"We work with businesses local and global to develop their managers and leaders. It occurred to me we could help these businesses try to get through this situation and develop plans for emerging from it," Smith said. "Our faculty are thought leaders and teachers of business, so I thought, let's bring their research, knowledge and experience to our local business community at no charge to them."
Smith enlisted support from his fellow faculty members and Mike Switzer, host of the South Carolina Business Review program on the statewide public broadcasting radio station. The result is a free series called "Managerial Insights: Supporting Businesses During an Uncertain Time."
The series features 12 professors with a wide range of expertise on topics including financial management, emergency succession plans, virtual teamwork during a crisis, staffing, building resilient supply chains, and selling in the post-COVID world. Each weekly topic starts with an SCBR radio interview on Wednesdays at 7:50 a.m., followed by a free live Zoom seminar the next Monday at 3 p.m. The seminars include 30 minutes of insights from the professor, followed by a 10-minute question-and-answer session. The interviews and seminars are also housed on the school's website and shared on its social media platforms.
"This is a time for thinking and working differently," according to the school's website. "Leading Moore School faculty members are volunteering their time and expertise to not only help the South Carolina business community combat this challenging business environment and survive but to adapt and thrive."
To learn more about the free business series, visit the website