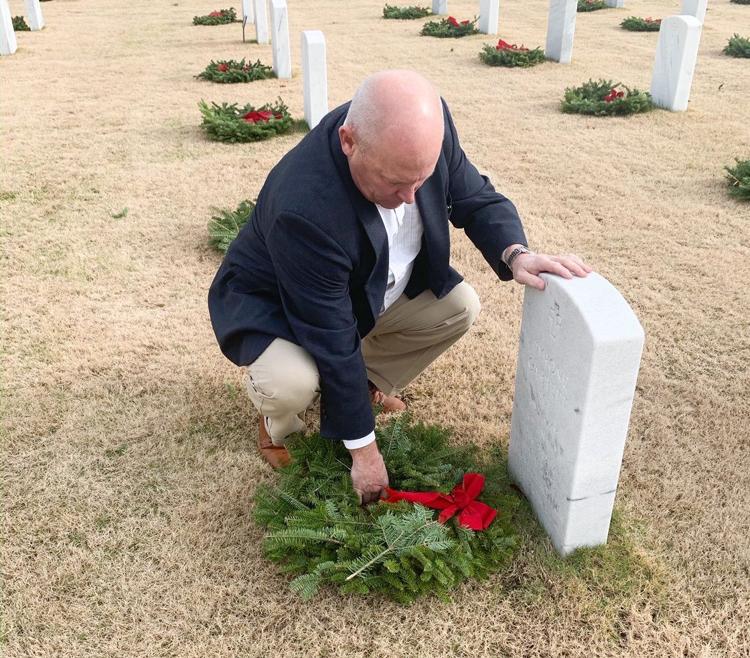 Two companies founded in the Midlands helped honor America's fallen service members at National Wreaths Across America Day Saturday.
Colonial Life enlisted support from its employees and nationwide sales organization to make a $20,000 contribution to Wreaths Across America. Company employees, including President and CEO Tim Arnold, then trooped to Fort Jackson National Cemetery on Saturday to place wreaths at the graves of thousands of Americans buried there.
Meanwhile, a WP Rawl tractor-trailer filled with 6,000 wreaths made its way to Beaufort National Cemetery, where more than 21,000 graves were decorated by an army of volunteers. The Pelion-based farm — one of, if not the, largest family-operated farms in the world — donated funds to buy wreaths, then sent a rig to Maine earlier in the week to load them and deliver them to Beaufort. Several second and third generation Rawl family members, including Doris Reynolds, Phil Reynolds and Barry Reynolds, joined volunteers of all ages to place the wreaths Saturday.
Wreaths Across America began in 1992 when Morrill Worcester, owner of Worcester Wreath Co., donated 5,000 wreaths to Arlington National Cemetery. The effort has since grown to include 1,600 locations in the U.S., at sea and abroad. Nearly 1.8 million wreaths were placed last year with the support of corporate and individual donations and volunteers. Congress proclaims a National Wreaths Across America Day annually, usually on the second or third Saturday of December.