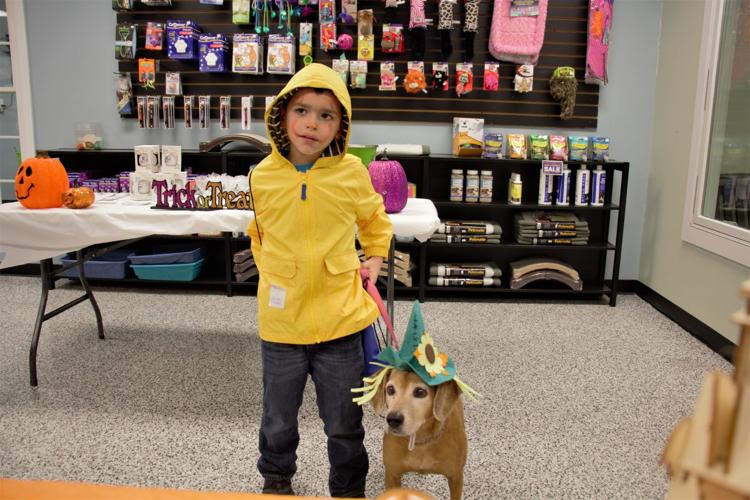 Halloween is far too big to fit on just one night, and it definitely appeals to furry creatures with four legs (or at least to their humans).
PetsInc is celebrating the holiday all week, and on Tuesday night hosted a "Howlerween Pawty" for people and dogs.
Adults, kids and their furry friends took part, with trick-or-treating and pumpkin painting inside the shelter and adoption center leading up to the night's main event: the costume contest.
Prizes were awarded for best dog costume, best (human) kid costume, and best dog and "hooman" costume pair. Pixel the dog claimed a prize, dressed (appropriately) as a Pixar-style monster. A young lady's Moana costume earned her the best kid title, and a "hooman" dressed as a Chicago Cubs player and her Dennis Rodman-costumed dog topped the combo category.
PetsInc is also offering an adoption special through Thursday, with all adult pets (older than seven months) only $100. Lots of food and other supplies (including treats just in time for Halloween) are also on sale at the shelter this week.
PetsInc CEO Reid Barrett (dressed as Groot to serve as a judge Tuesday night) said every purchase and donation, along with every customer at the Neuter Scooter Vet Clinic, helps keep the nonprofit organization continue its mission of saving homeless pets.
"Just remember that we are not government funded," Barrett said. "All of our funds come from donations and from what actually takes place in this clinic. This clinic pays for all the shelter dogs: their food, their care, their shots. We help the community with a lower rate on a lot of things and they help us pay our light bill."
More information on PetsInc and the Neuter Scooter Clinic is available at  petsinc.org.