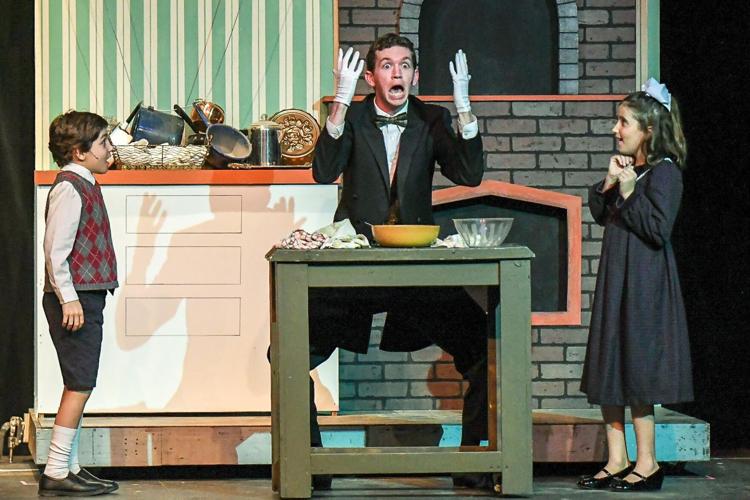 You can't keep a good nanny down, and the same goes for a good theatre company. COVID-19 caused a six-month delay, but the Mary Poppins magic combined with hard work has overcome even the pandemic, and Town Theatre's production is like the lady herself, practically perfect in every way.
The show was postponed when the pandemic began, but even then the cast, crew and staff were determined to keep the magic alive. They drew hundreds of spectators with a parade through Columbia neighborhoods March 26, the cast singing from cars for safety.
Safety is still a top priority with the reopening of Town Theatre. The show hit the stage Friday, Saturday and Sunday and will continue through Nov. 14, with precautions which are both extensive and impressive.
Air purification systems are in place in the theater, using needlepoint bipolar ionization (NPBI) technology to deliver clean indoor air. A ULV Cold Fogger and HOCl maker allow Town to generate and distribute disinfectant on site and clean the entire auditorium in just 15 minutes. The crew also fogs props, the set, backstage, dressing rooms and rehearsal hall spaces.
Seating is limited, and everyone entering the building must pass a temperature check. Masks are required for the audience, crew and staff, and even the cast is masked during rehearsals. For performances, actors are spaced on stage and wear masks while backstage and in common areas. Performers do their hair and makeup at home to avoid crowding in the dressing rooms.
"When our show was suspended, I was desperate to find a way to bring some joy while abiding by the rules to social distance," Town Theatre Executive Director Shannon Scruggs said after the postponement in March. "I heard in an online service that, while this is a challenging time, we should also try to view it as an opportunity."
With safety so thoroughly covered, the audience can relax and enjoy the musical. The Town show is based on the Broadway production, which brings many surprises for those familiar only with the movie, but all the favorite songs remain.
More information on the show is available at towntheatre.com.