Paul Jubb is a student at the University of South Carolina. He attends classes, completes homework, and goes to tutoring sessions.
Nevertheless, he's still a far cry from the average student.
A native of Hull, England, Jubb traveled across the pond to the Palmetto State on a NCAA student-athlete scholarship from the Gamecocks men's tennis team.
He soared to new heights with the Gamecocks during the 2018-19 season, capturing the NCAA Men's Tennis singles national championship last May in Orlando, defeating six opponents in the 64-player tournament.
After winning the championship match against Nuno Borges, the No. 1 overall seed from Mississippi State, Jubb would soon become the top attraction in "The Theme Park Capital of the World."
With a 38-4 overall record last season, Paul isn't accustomed to losing very often. But Borges, the senior from Portugal, handed Jubb two losses during the regular season.
"I was gutted after losing the first two matches. I came close both times," Jubb said.
But in the finale, he refused to quit. "I won the one that mattered most."
While Jubb may have already cemented his status in UofSC's record books with the win, he has bigger goals in mind, like becoming a mainstay on the world's professional tennis circuit.
"College is just a step into the big tennis world, so winning and losing doesn't really matter." he said.
Jubb had his first opportunity to compete on the big stage in July, after Wimbledon Championships organizers selected him as a singles wild-card player.
He was surprised, to say the least. "When I got the phone call, I was obviously a bit speechless. It was a very big shock to me," Jubb said.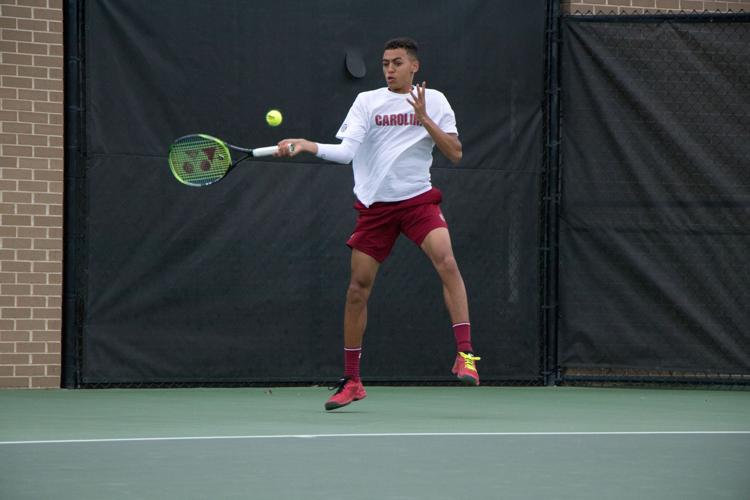 Played in London, Wimbledon is one of four annual Grand Slam events.
With the world's top players competing for millions of dollars in prize winnings, it's the best that tennis has to offer.
Representing his school and home country, Jubb fell in a four-set decision to Jaoa Sousa, who was ranked No. 69 in the Association of Tennis Professionals Tour, the organization that runs the world's elite professional tennis circuit.
Jubb's play continually improved during the build-up to the big tournament, but he expressed disappointment with his performance in the loss, a match played in front of home fans, which included his family.
"I didn't really do myself justice," Jubb said.
The 20-year old, a rising star in the sport, realized the significance of playing in the event in the first place, though.
"Overall, the experience was what I needed. It was really good to get a feel for everything, with all of those top guys. I needed to see where I want to be on a regular basis," Jubb said.
Jubb was not on campus during the university's fall semester. Instead, he spent his time training in London. "I did a lot of off-court work, which is where I needed to get stronger," he said. Jubb also completed a two-week camp at the IMG Academy in Bradenton, Florida. He returned to Columbia after winter break.
In men's college tennis, student-athletes compete during the fall, but official team results are not counted. After three weeks of spring semester matches for South Carolina, it's safe to say that both Jubb and his teammates are meeting expectations.
Headed into a road match against the University of North Carolina scheduled for Sun, Feb. 2 in Chapel Hill, the Gamecocks are 5-0 overall and ranked No. 15 in the nation.
Jubb is 3-1 in singles matches and 3-0 in doubles matches this season.
South Carolina defeated Oklahoma and Georgia in a tournament at Mississippi State University last weekend (Jan. 25-26), highlighted by a comeback victory against the Bulldogs.
According to the school's official athletic website, "The Gamecocks never wavered, storming back from down 3-1, completing the comeback on senior Paul Jubb's forehand winner in the third set."
"I normally do better when I play by myself," Jubb said.