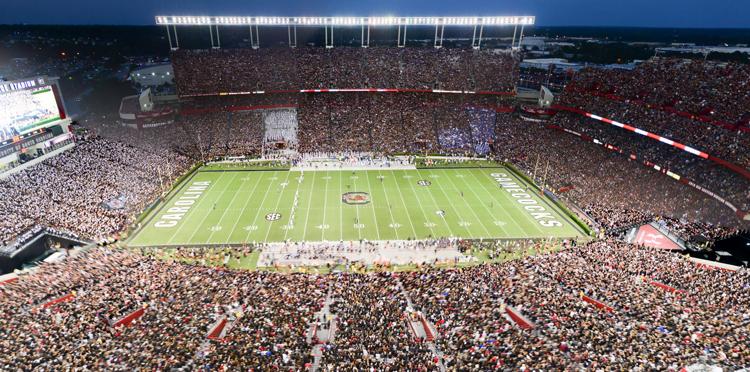 It's only two and a half months until South Carolina's Sep. 5 opener against Coastal Carolina at Williams-Brice Stadium.
There are three crucial questions the Gamecocks must answer to return to relevancy in 2020:
Will offensive coordinator Mike Bobo be able to score points with a retooled offensive scheme?
South Carolina's offense struggled to score points in 2019, averaging only 15.7 points per game against Division One opponents. In their final three games, the Gamecocks only averaged 8 points, failing to score a touchdown in their last two games.
South Carolina was No. 104 in the FBS in scoring offense, and excluding a 72-point performance against FCS Charleston Southern, the Gamecocks would have finished No. 129 of 130 teams.
Explosiveness evaded the group through the passing attack. South Carolina ranked No. 127 of 130 schools in passing yards per completion with 9.95 yards per completion. The Gamecocks were No. 82 in rushing yards per game.
Struggles were evident in both the passing game and the running game, but new offensive coordinator Mike Bobo hopes to revamp the unit by installing a more balanced offense with a new-look rushing attack.
"We threw the ball for 38 more times than anyone in our league after the third game of the season. That's not a formula," said Muschamp.
Ryan Hillinksi is the incumbent starter at quarterback. The sophomore showed strides and toughness in his rookie season, but he also had freshman growing pains. The California native recorded 2,357 yards, 11 touchdowns, and five interceptions.
The Class of 2020's No. 4 dual-threat quarterback recruit, rising freshman Luke Doty, looks to compete with Hilinski for the position. While he lacks collegiate experience, his running abilities could potentially provide more spark to Bobo's offense if he could utilize Gamecocks playmakers to establish an effective run-pass option.
Four-star running back Marshawn Lloyd could provide immediate impact, and sophomores Kevin Harris and Deshaun Fenwick add depth. JUCO transfer Zaquandre White has drawn positive reviews and should figure into the mix as well.
Speedy 5'10" senior Shi Smith leads a young and talented group of Gamecocks receivers, with 489 yards and two touchdowns last season. Dakereon Joyner could also be a playmaker at the position after making a full-time switch from quarterback.
Graduate transfer Collin Hill followed Bobo to Columbia from his previous position at Colorado State. Hill will provide a depth and knowledge of the playbook, and could figure into the race as well.
Can the defensive line reload, and what about the rest of the unit?
With  defensive Javon Kinlaw, D.J Wonnum, and Kobe Smith leaving the program, new defensive line coach Tracy Rocker must replace 75% of a starting front that was the backbone of South Carolina's defense.
The good news for the Gamecocks is that the team's deepest position group in 2019 reloads with talent. Senior defensive end Aaron Sterling is South Carolina's lone returning starter, but led South Carolina in tackles for loss (10) and sacks (6.0) in 2019.
Sterling will play alongside junior Kingsley Enagbare at end, who recorded 3.5 sacks and was second on the team in tackles for loss (7.0). Enagbare will need to successfully recover from an off-season hip surgery to display his full potential.
Daniel Fennell and Brad Johnson could see a position battle to replace D.J Wonnum, who was signed by the NFL's Minnesota Vikings. Sophomore Zacch Pickens, a highly rated four-star recruit, is expected to be next in line to replace the legendary Javon Kinlaw.
Keir Thomas, a 6'2," 270-pound redshirt senior, should be expected to pick up the slack for Kobe Smith's production at the other end position. Thomas only missed one game 2016-18 before falling to an ankle injury that caused an infection, sidelining him for over 80% of last season. The end was a valuable contributor when healthy, recording 106 career tackles with increased annual production throughout his career. During his junior season, he recorded 44 tackles, 3.5 tackles for loss, and 1.5 sacks.
As for the rest of the unit? The Gamecocks return six of their eight top returning tacklers, with nearly the entire foundation returning to the middle of the defense and the secondary.
South Carolina finished 4-0 when the defense allowed 20 points or less, and 0-8 when they gave up 21 points or more, so perhaps that's more of a testament to the struggles of the offense.
Both middle linebacker Ernest Jones and weak-side linebacker Sherrod Greene turned in their all-time best collegiate seasons as sophomores, and look to build on their respective campaigns as sophomores.
The secondary returns four starters, including the likers of cornerbacks Jayce Horn and Israel Mukuama, safety R.J Roderick, and nickel Jammie Robinson.
Can South Carolina get off to a fast start with the nation's No. 1 strength of schedule?
In 2018, South Carolina finished 7-6. The Gamecocks took the form of two separate alter-egos in the first half and second half of the season. South Carolina started 3-3, but won four of their final six regular season contests.
Last season, the Gamecocks started 1-3, but back-to-back victories over Kentucky and Georgia signaled hope headed into the final stretch of the season. South Carolina lost five of their last six games.
The Gamecocks turn a fresh page in 2020 and the first three games could set up a smooth transition for success. Coastal Carolina, East Carolina, and Missouri round out the first 25% of the slate, and all three contests are scheduled to be played at Williams-Brice Stadium.
However, South Carolina again faces the nation's toughest schedule. The gridlock begins with back-to-back road trips to Florida and Kentucky on Sep. 26 and Oct. 3, followed by an Oct. 10 home contest against Tennessee.
After a bye week on Oct. 17, the Gamecocks will face three teams that finished No. 5 or higher in last season's College Football Playoff final rankings: Georgia, LSU, and Clemson.
South Carolina will need to collect as many victories as possible before the final stretch of the season for the best chance of completing with seven wins or more.