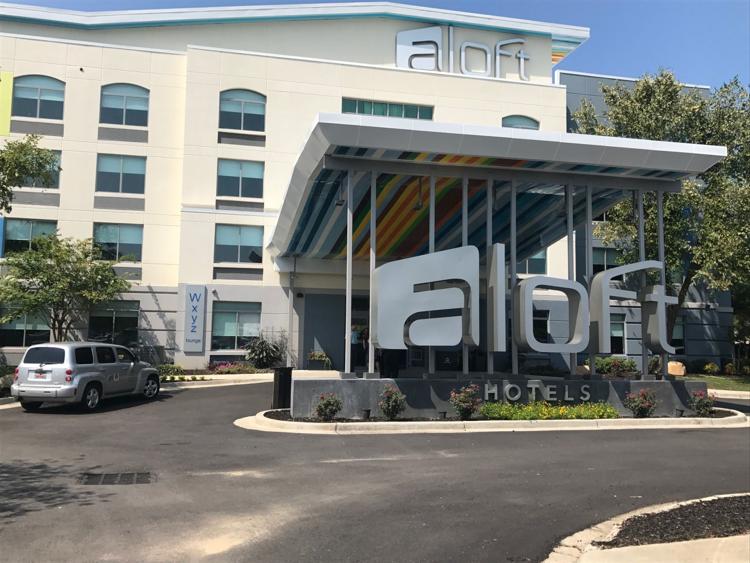 Richland County Sheriff Leon Lott provided an update regarding an officer-involved shooting that took place Sunday at the Aloft hotel in Harbison.
According to Lott, Rochester police in Minnesota contacted Richland County deputies Sunday about 29-year-old Renard Carter, who Lott said murdered his pregnant girlfriend and her two-year-old child, then traveled to Columbia to kill another girlfriend.
"We were able to get her to a safe house. We began an investigation to locate Carter," said Lott. Carter was located at the Aloft hotel.
Lott said the arrest team tried to verbally talk Carter out of his room. "He was making threats. Told them he had a gun, a rifle, and that he was going to shoot them. At around 10:10 he game outside his room with a gun in his hand," said Lott. Carter was holding a BB gun that looked like a rifle when he exited his room, which Lott had in his possession during the press conference. He held it up to show the crowd.
Two Lexington County deputies and a SLED agent fired upon Carter, and he was hit, according to Lott. He said at that point they were able to make the arrest, EMS treated him, and Carter is now at a hospital where he's being guarded.
Once released from the hospital, he'll be transported to the Alvin S. Glenn Detention Center then extradited to Minnesota.
Lott said Carter was recording the incident on Facebook Live, and there was also body camera footage, that will not be released at this time.
There were more than 15 officers who were on-scene at the Aloft hotel, from four different agencies: The Columbia Police Department, Richland County Sheriff's Department, Lexington County Sheriff's Department, and SLED.
"Someone very dangerous was apprehended. We're very fortunate none of the officers were injured and that he was apprehended," said Lott.
This is still a developing case. Any additional updates will be provided when received.