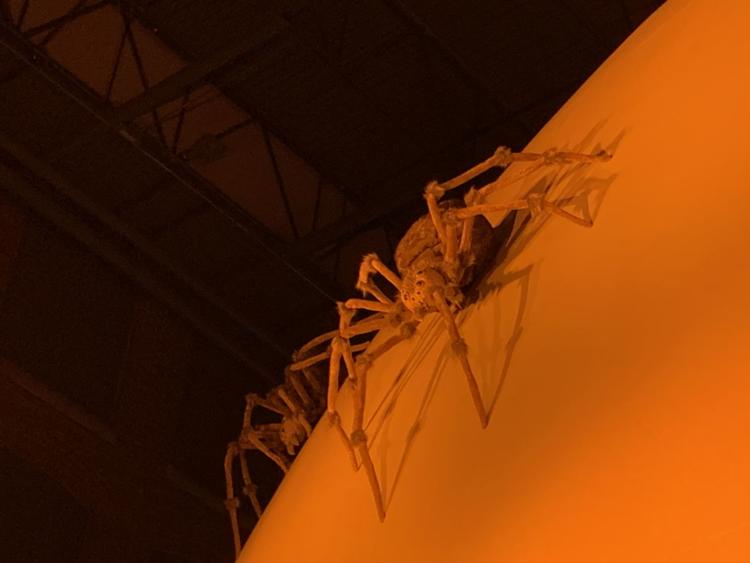 After all the years (53, to be exact) of waiting for Charlie Brown's friend Linus, it finally ha
ppened. The great pumpkin has arrived, and it's right here in Columbia.
Tuesday night, the South Carolina State Museum lit up its own version of a jack o'lantern, and they went big. The 55-ft. planetarium dome on the east end of the building is now a glowing giant pumpkin, complete with a happy face (happy despite the very creepy spiders crawling on it).
Local event lighting company Ambient Media made the transformation happen, and the orange glow can be seen from both Huger and Gervais Streets, letting all who pass through the Vista know that spooky season is officially here.
Several dozen people gathered to watch the initial lighting, with one visitor saying she drove an hour and a half for the big moment. Kids and adults alike counted down to 7:45, when the "carving" was unveiled.
The great pumpkin will glow nightly throughout October, and it's only one of many seasonal sights to see at the museum. Inside, the annual Museum of Oz awaits, offering guests a chance to experience the interactive Magical Maze of Oz, the Wizard of Oz 4D Experience and night sky viewing in the Boeing Observatory. Will witches be flying past the moon? The observatory is the best place to find out.
More information on all the museum's exhibits is available at scmuseum.org.