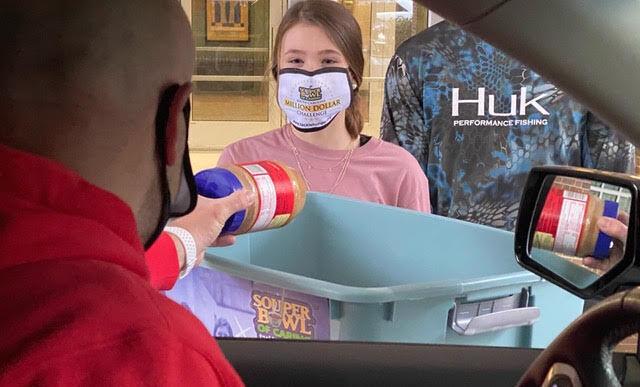 As many eyes focus on Tampa Sunday for Super Bowl LV, more than 350 churches, schools and other organizations will begin a drive for a goal more important than any touchdown.
Super Bowl Sunday is also the biggest day of the year for Souper Bowl of Caring, a youth-inspired organization founded in Columbia in 1990 and now working across the nation. This year, Columbia's Eastminster Presbyterian, which has participated in the Souper Bowl of Caring for 30 years, is asking all those who are able to join them in working to raise $1 million to feed the hungry in South Carolina.
The South Carolina Million Dollar Challenge will kick off Sunday and continue through the end of February. Eastminster will match 15% of the amount raised by every participating organization.
"Through my work with the World Food Program, I see every day the devastation of hunger. I see it in the hollow eyes of children and hear it in their soft pleas for help," said David Beasley, executive director of the World Food Program and former governor of South Carolina. "Covid has brought exceptional pressures on our communities and our economy, so I am proud that my friends in South Carolina are mobilizing to meet the needs of the undernourished in my home state. I urge my fellow South Carolinians to generously support this humanitarian effort."
Here's how your organization can join the drive.
1. Visit TackleHunger.org and sign up your organization as a participant.
2. Pick a registered nonprofit that addresses hunger or housing in your South Carolina town/city. That nonprofit will receive 100 percent of your collections, plus the matching 15 percent from Eastminster.
3. Use the promotion kit that SBOC will rush to you to spread the word in your community about your upcoming Souper Bowl of Caring collection.
4. Beginning Super Bowl Sunday, Feb. 7, collect dollars and cans of food. Your organization can continue to collect donations through the month of February.
5. Send all donations to your local charity of choice and report final results to SBOC via TackleHunger.org.
"Many South Carolinians are struggling to make ends meet financially, and all of us are hungry for hope," said Eastminster Senior Pastor and Founder of Souper Bowl of Caring, Brad Smith. "By pulling together and moving beyond ourselves in this simple but significant way, ordinary South Carolinians can do extraordinary good, helping hungry neighbors and in that, enjoying a foretaste of the Kingdom of God."