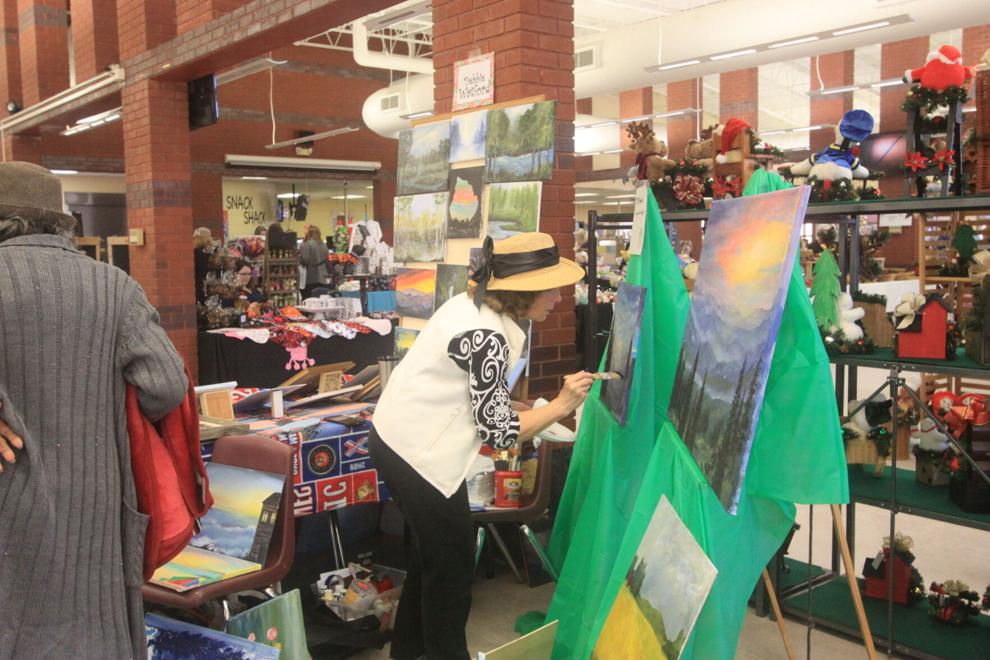 It's almost time to pull out the fall decor and start ordering those pumpkin spice lattes. The autumn season officially begins Sept. 22, but the South Carolina State Farmers Market will be hosting the annual Fall Arts & Crafts Market a few days beforehand. The event will be held Sept. 18 from 9 a.m. to 4 p.m., and Sept. 19 noon until 4 p.m.
According to market officials, the event will host more than 100 crafters and vendors. Items available will include handmade jewelry, children's clothing, pottery, artwork, woodworking, handbags, ornaments, wreaths, and more.
There will also be a silent auction on-site to benefit Harvest Hope Food Bank.
The market is a family-friendly event, with free parking and admission. It was previously held at Lexington Middle School, but was changed to the SC State Farmers Market in 2020. The Midlands Crafter's Association is the presenting organization.
Additional information can be found on the Midlands Crafter's Association website. The SC State Farmer's Market is located at 3483 Charleston Hwy., West Columbia.
Participating vendors:
Art and Authors
2nd Chance Designs
Art By Vicki
Bethie Boards Art
Design & Purpose
Gifting with Watercolor
Halina Scahfer - Children's Book Author
IW Cuddle Shop
Resinated Soul
Serendipity Art & Publishing
Usborne Books
Accessories and Clothing
BeeLee Bags
Bella's Boutique
Believe In You Boutique
Cashlynn's Boutique
N'Style
Circus Threads
Hairbows Galore
Little Pebbles Boutique (children's)
Matilda Jane Clothing
Rainbowz
The Broken Bow
The Fox & Frills
The Honeybee (children's)
The Lovely Boutique
The Mailroom at Parkland
Turtleberry Farm
Worth The Wait Boutique
Beauty and Personal Care
Charleston Soap Chef
Colorstreet Nails
Down To Earth Anne
Ducky Soaps
Farmasi
Get Naked LLC
Mary Kay
Max Living Chiropratic Care
Raven Scents
RD Naturals
Shuckasoapo
Skin Solutions by Thea
Ceramics and Pottery
Barefoot Pottery
Crafty Krafts Ceramics
Sunset Studio Pottery
The Good Idea Gift Shop
Crafts
Candles etc.
Cotton Blossom Candles
Candles by Bambi
G & L Candles
Sassy Scentz N Such
Second Cup Candles
Scentsy
Unique Finds
Gifts and Personalized
Blackstar Designs
Big Daddy Designs
Personal Touch Designs
Simply Elizabeth Crafts
Southern Girls Boutique
Southern Made 4U
Stoneycreek Cigars
Glassworks and Resin Art
Buczkowski Custom Creations
Janet Place Designs
That's Sew Lizzie
Home Decor and Household
Allen Burns Designs
Christmas & Curiosity Shop
Clean Slate Photo & Creative
Crafty Doors & More
Crissy's Creations
Debbie Do's Designs
Jean's Wood Designs
Marie Bussart Linen Sales
Neicys Accessories
Norwex
Spuris Basket Company
The Vintage Swag
T L Design's Door Decor
Tupperware
Wreaths by Lauren
Jewelry
Allen's Gems & Rocks
Creative Spirit
Honestly Sweet Gifts
Interesting Intricacies
Jewels by Charles
Katherine Ceska Jewelry
K & T Designs
Kaowaos Clay
Magnabilities
Mandylicious Marvels Jewelry
Mother's Blessings
Origami Owl
Simple & Elegant Accessories
The Left Hand Ladybug
Tickled Pink by Tammy
Timeless Bead Designs
Leatherworks & Woodworks
Abue's Wooden Creations
B & E Rustic Designs
Bulldog Woodworking
Carolina Made
Columbia's Cultural Expressions
Designs by Debbie
Duke Interior
G & L Creations
Kyzer Bowls
Lexington Leather
Little House Designs
Simon Carvings
Smooth Joints Woodworks
ToBaccWoods Creations
Turning A New Leaf
U Nailed It Woodworking
Metal Works
Chic N Dude
Rick's Handmade
Needleworks
A&A Handmade
Cedar & Saige Boutique
Chele's Country Crafts and Candy
Cody's Creations
Gramma Darla's Shop
Honey of a Cut Embroidery
Kellie's Cafting Corner
Let's Get Crafty
MariJean's
Penny's Quits & Gifts
Sallyscarves/Sew Dang
Sperre Designs
Outdoor
Above The Rest
Art and Soul Creations by Shelly
Black Shadow Iron Works
Hand Carved Trees Burn Barrel Benches
Wind Chime Beauties
Pets
Bully Boutique
Carolina Cooper's Pantry
Creations For Your Pets
Dixie Dawgs Gourmet Delites
Kava's Korner
Learn To Sew Sewing Studio
Thirty Three Butterflies
Pickles, Dips, Seasonings, Etc
Meet Your Cremator
Mrs. B's Pickles
Gourmet Cupboard
Kirby Delites 14 in 1 Spice
Tailored Flavor Seasoning Lady
Sweet Treats
Apeeling Creations Candy Apples
Buttercream Dreams
Laura's Cookie Jar
Lauralee's Kitchen
T & J Italian Ice
Tina's Cakes and Such
Food Court
Doughnut Guy
RND Food
strEats
KingZ Peanuts
Sips Coffee
The Candy Man
Spuddering Around