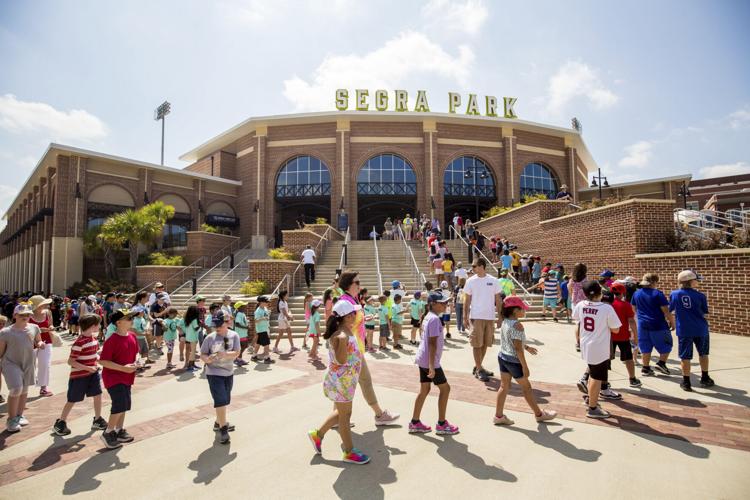 The field of four is set for this weekend at the home of the Columbia Fireflies.
The inaugural S.C. American Baseball Summer League double-elimination state tournament starts Friday and concludes Sunday at Segra Park.
The four-team field has three familiar names who competed last year for the American Legion state title. It kicks off at 4:35 p.m. when Sumter Post 15 (14-5) faces last year's tournament runner-up Fort Mill Post 43 (14-2).
The nightcap features West Columbia (14-2-1), the lone Midlands participant, facing last year's Legion champion and undefeated Greer Post 115 (14-0) at 7:05 p.m.
The losing teams will then face each other in a 10:05 a.m. elimination game Saturday, followed by a winner's bracket game starting at 12:30 p.m. At 3:05 p.m., the surviving team will face the losing team from the winner's bracket.
The final is scheduled for 1:35 p.m. Sunday with a 4:05 game scheduled, if necessary.
West Columbia was the last team to qualify for the state tournament after missing the post-season in 2019. After a player tested positive for COVID-19, it pushed back the start of its Best-of-Three series with last year's tournament qualifier Florence Post 1 from Monday to Tuesday as other teammates were tested and cleared to play.
West Columbia defeated Florence 7-5 in Game 1 at Legion Field. It then fell 12-7 in Game 2 at Midlands Sports Complex, but rebounded to win the deciding game 11-9.
The contest was marred by controversy. In the top of the sixth, potential game-tying runner Caleb Oakley was ruled out tagged out by West Columbia catcher Blake Paylok at homeplate for the third out.
A video replay shown on Twitter has Florence fans and head coach Derek Urquhart, a member of the University of South Carolina Athletics Hall of Fame, believing otherwise.
"That's one of the worst calls I've seen in a situation like that," Urquhart told the Florence Morning News. "How he calls him out on a play that he clearly got in and he's in, that's…we're still trying to figure out how he was in position to make that call. That's one of the worst calls I've seen and I'm going to lose some sleep over that call. That killed our momentum – that ties the game. For that call to happen in that type of a game…for the umpire to miss that one…that was horrible."
West Columbia picked up an insurance run in the bottom half of the inning and reliever Dylan Williamson pitched a scoreless ninth in his first appearance this season on the mound.
Tickets can be purchased at the gate.
S.C. AMERICAN BASEBALL SUMMER LEAGUE TOURNAMENT SCHEDULE
(Friday's Games)
Sumter Post 15 vs. Fort Mill Post 43 4:35 pm
West Columbia Post 79 vs. Greer Post 115 7:05 pm
(Saturday's Games)
Elimination game 10:05 am
Winner's bracket game 12:30 pm
Winner of elimination game vs. loser of winner's bracket game 3:05 pm
(Sunday's Games)
Tournament final 1:05 pm
Tournament final 4:05 pm (if necessary)