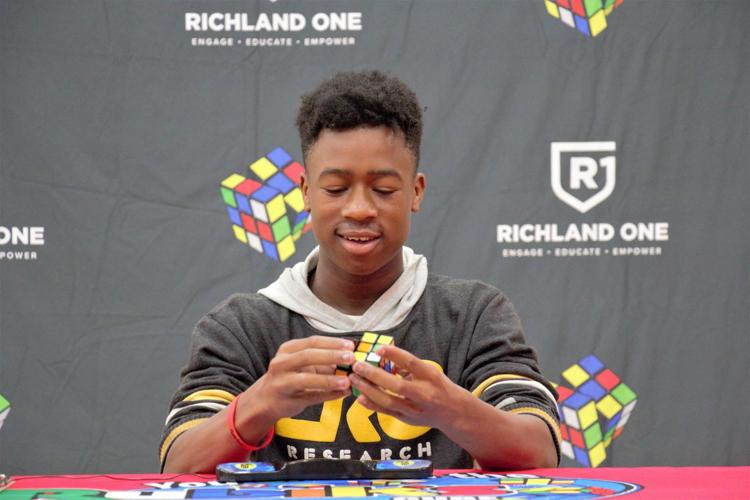 The Rubik's Cube is one of the most popular toys in history, and has caused frustration for countless people since its invention in 1974. For Richland One students, however, it's a puzzle they've mastered, and the challenge now is to solve it faster and faster.
Around three dozen middle school and high school students gathered for the first speedcubing competition of this school year Saturday at Crayton Middle School.
The Richland One Speedcubing Program, created in partnership with EngenuitySC, provides middle and high school students with an engaging way to sharpen mathematical thinking and problem-solving skills. A typical solve requires memorization of more than 70 algorithms.
"It teaches them patience. They learn the algorithms and to problem solve," said Sanders Middle School teacher Reeshemah Kelley. "The components they use from solving the Rubik's are the same things we use in the classroom."
The students compete in teams and individually, and Saturday's big winner was W.G. Sanders Middle School seventh-grader Lucas Biel, who solved a cube in just 30.14 seconds to break his own district record.
Another speedcubing competition is set for next semester in Richland One. The cubing craze is spreading, and teachers and students alike hope to see that continue.
"It makes me feel really good. At school right now we have about 200 cubes that are circulating, because all the students have gotten into a Rubik's addiction," Kelley said.
Crayton Middle School teacher Jeff Burden said he hopes to see Columbia soon host a statewide cubing competition, adding "We didn't start this to stay small."
Officially sanctioned by Rubik's, the speedcubing events are made possible in part by the company's "You CAN Do The Rubik's® Cube" outreach program, which provides resources to schools to promote STEAM (science, technology, engineering, arts and math) standards and 21st century skills via the Rubik's Cube in both classroom and after-school settings.
EngenuitySC is a nonprofit organization that provides logistical support and connections with private sector resources for schools throughout the district.
"Programs like the Rubik's speedcubing competition build foundational skills in algebraic thinking that can lead to later success in engineering and computer science," said Meghan Hickman, executive director of EngenuitySC. "All the while, the kids are having a ton of fun."