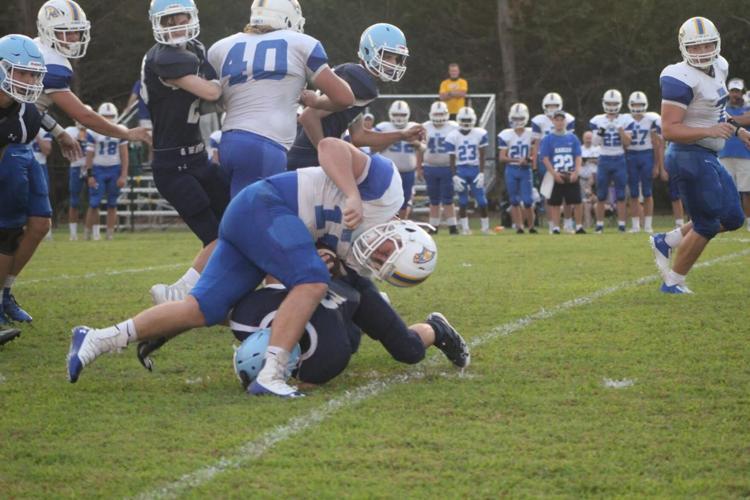 A 3-0 start for the second straight year is not surprising to Richard Winn Academy head coach Paul Brigman.
How the Eagles have dominated their first three opponents is what's pleasantly surprised him. Friday's 41-0 win at WW King Academy was the third straight shutout to open the season.
Richard Winn has outscored its first 3 opponents 141-0. Against the Knights, who lost leading rusher John Roy for the season last week to a collarbone injury, the Eagles' defense held them without a first down for the entire first half.
"Our defense has been a little bit better than we expected early on," Brigman said. "We have a big group of seniors and we have a lot of returning starters. We knew we would be good, but we thought it would take a while. The preseason was so fractured. We just did not know if whether we would be this prepared, this ready to go. But our defense has been excellent all year, all year."
All of Richard Winn's points came in the first half on 7 straight scoring drives. B Baker and Joey Bannister both had two touchdowns, each having a 42-yard scoring run. Zack Taylor had a scoring run and 6 PATs and Brian King caught an 11-yard touchdown.
WW King Academy (1-2) was held without a first down for the entire first half. It picked up two first downs during an opening drive to open the second half that ended with a lost fumble.
Richard Winn returns home to face Charleston Collegiate for Hall of Fame night.
Heathwood Hall 40, Cardinal Newman 7
Alex Lewis and Lugoff-Elgin transfer Josh Gary connected on 3 touchdown passes and the Porter brothers, Rondarius and Ronnie, and Walker Draffin each added scoring runs to continue the Highlanders' best start in 11 years.
Heathwood Hall (3-0) jumped out to a 20-0 lead in the first half and matched the output in the second half.
Jalil Garvin-Mingo had a 22-yard touchdown run in the fourth quarter for the Cardinals.
Northside Christian 36, Conway Christian 8
The Crusaders picked up their first win of the season on the road.
Quarterback Max McKenna connected on 5 touchdown passes - three to Charlie Compton and two to Brayden Ross - in the team's first game in two weeks.
Northside Christian (1-1) returns home for two games starting Sept. 18 against Jefferson Davis Academy.
First Baptist 40, Ben Lippen 10
The Falcons fell to 0-3 on the season with the loss Friday.