A scoring dual and the top two teams in Class 4A falling to defeat were among the highlights of day one of the Crescent Construction Boys and Girls' Martin Luther King Jr. Bash.
The fifth edition of the event at Eau Claire High School opened with six girls' contests. Day two on Monday will feature all-boys action, highlighted by a "Clash of Champions" between Class 4A Ridge View and Class 2A Gray Collegiate:
W.J. Keenan 92, Wilson 77
Milaysia Fulwiley had a performance to top all previous efforts in the five-year history of the Bash.
With University of South Carolina women's basketball coach Dawn Staley in attendance, the freshman point guard of fifth-ranked Class 3A W.J. Keenan erupted for 54 points in the 91-77 win over Class 4A seventh-ranked Wilson.
The contest was billed as a shooting battle between Fulwiley and Georgia Tech commit Loyal McQueen of Wilson. Both did their part from the start as Fulwiley scored 26 points to lead her team to a 43-40 halftime lead. McQueen had 20 to lead the Lady Tigers.
The two standouts topped their scoring efforts in the second half. Fulwiley had 28 points to help break the game open for the Lady Raiders and McQueen tallied 22 second half points.
Jaliy Oree also scored in double figures for Keenan (9-6) with 17 points and teammate Ashari Lewis had 15 rebounds.
Kayla Washington had 11 points for Wilson.
Westwood 61, North Augusta 59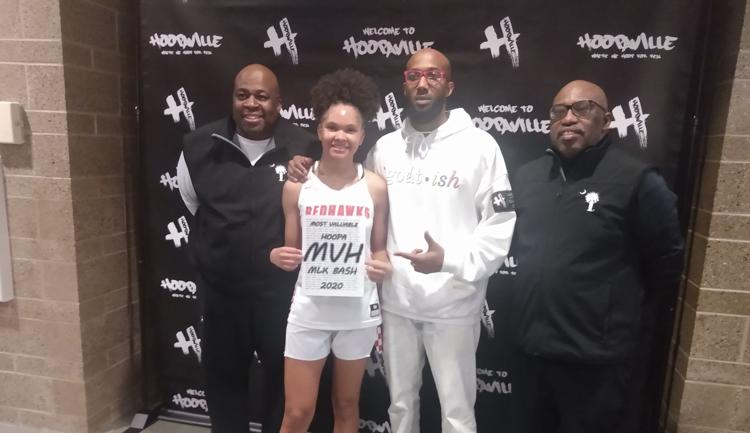 Ja'Mari Frederick scored 18 points, Jessica Woods posted 14 points and Nyah Lawrence added 13 points and 15 rebounds to lead the 4th ranked Lady Redhawks passed the 3-time defending Class 4A champion Lady Yellow Jackets.
J'Mani Ingram had a game-high 28 points for North Augusta, followed by P'eris Smith with 14 and Tyliah Burnes with 12.
This was the first of three straight games against the top three teams in Class 4A for Westwood. It faces third-ranked South Pointe Tuesday and second-ranked Ridge View Friday.
Orangeburg-Wilkinson 47, Ridge View 41
The sixth-ranked Bruinettes used a 12-0 run to defeat the second-ranked Blazers.
North Carolina A&T-bound forward D'Mya Tucker posted a double-double (16 points, 10 rebounds) to earn Game MVP honors. Shar'dasia Ziegler had 15 points, 5 assists and 5 rebounds and helped O-W rally from a 2nd half deficit.
The Bruinettes led 25-23 at halftime before the Lady Blazers scored three straight points to take the lead. Laila Acox led Ridge View with 13 points and Ariyanna Daney added 10 points before leaving the game late after hurting herself chasing a loose ball out of bounds.
Despite also missing the services of Mya Wasswa and Camri Goodwin due to injury, Ridge View led 34-29 midway in the second half. The Bruinettes answered with 12 unanswered points to take the lead with 3:49 left in the game.
The Lady Blazers got only as close as four points the rest of the way.
Cardinal Newman 59, Spring Valley 37
Aubrey Myers scored 18 points, Tanaja Kennedy added 16 and Ashlyn Watkins had 15 points and 13 rebounds as the defending SCISA Class 3A champion Lady Cardinals defeated the defending Class 5A Lower State champions.
Ariana Wilkes led the Lady Vikings with 16 points and Lauryn Taylor had a double-double with 15 points and 11 rebounds.
Dreher 45, Sumter 44
Kourtney English scored 18 points and grabbed 18 rebounds and Imani Williams and Amber Burton added 14 and 11 points, respectively, as the Lady Blue Devils held on for the one-point win over the Class 5A fifth ranked Lady Gamecocks.
Tamerah Brown led Sumter with 19 points and Kiara Croskey added 10 points and 4 assists.
South Pointe 41, Lower Richland 34
Randi Neal scored 14 points, Jamia Blake finished with 13 and Trinity Adams finished with 10 for the third-ranked Lady Stallions.
Anala Nelson led the Lady Diamond Hornets with 12 points.
MONDAY'S SCHEDULE
(BOYS)
Lee Central vs. AC Flora - 10:30 am
North Augusta vs. Wilson - noon
Marion vs. Lower Richland - 1:30 pm
Lakewood vs. Blythewood - 3 pm
Cardinal Newman vs. Keenan - 4:30 pm
Ridge View vs. Gray Collegiate, 6 pm
1. MiLaysia Fulwiley of W.J. Keenan is named Player of the Game after setting a Bash record with 54 points. She's joined by former University of South Carolina captain Carey Rich and Daniel Nelson of Hoopaville.
2. Ja'Mari Frederick of Westwood was named Player of the Game.