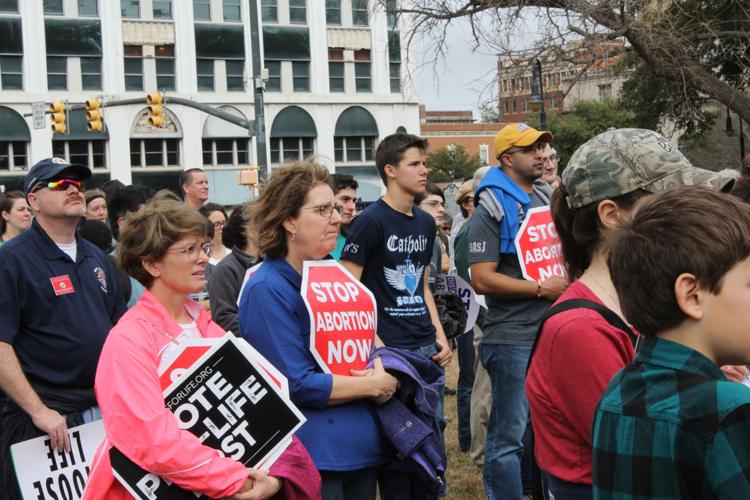 The State House lawn near the intersection of Gervais and Main Streets was packed Saturday with people calling for further restrictions on abortion.
The annual Proudly Pro-Life Weekend, organized by South Carolina Citizens for Life, started Friday night with a dinner theater fundraising event with Gov. Henry McMaster as the keynote speaker, and concluded with a march to the State House followed by a rally at noon Saturday.
With the state's legislative session set to begin Tuesday, much of the focus at the rally was on the bill entitled the "South Carolina Fetal Heartbeat Protection from Abortion Act," which would ban abortions in South Carolina any time after a fetal heartbeat is detected.
Senate Majority Leader Shane Massey said Thursday that there are not enough votes in the Senate to pass the bill, adding "I don't want to deal with it again. If we have the votes, that's a different scenario."
At Saturday's rally, SC Citizens for Life President Lisa Van Riper called on voters to push for the bill to pass, comparing the rules of the Senate to a planet-destroying space station from the Star Wars film series.
"We want to add protection for every human being unborn and born in South Carolina who has a heartbeat. The time is now," she said. "The Death Star for pro-life legislation in this state right now is the rules of the South Carolina Senate."
South Carolina Lt. Gov. Pamela Evette also spoke at the rally, calling for passage of the bill and sharing personal stories about her family, including delivering a premature child who is now a healthy adult.
"We hear movie stars standing up on stage talking about how having a baby would hurt their career," she said. "Well, I'm proud to say that all three children, my blessings from God, never stopped my career in any way. In fact, I think it made me better."
Organizers said more than 2,000 people took part in the Proudly Pro-Life Weekend events.