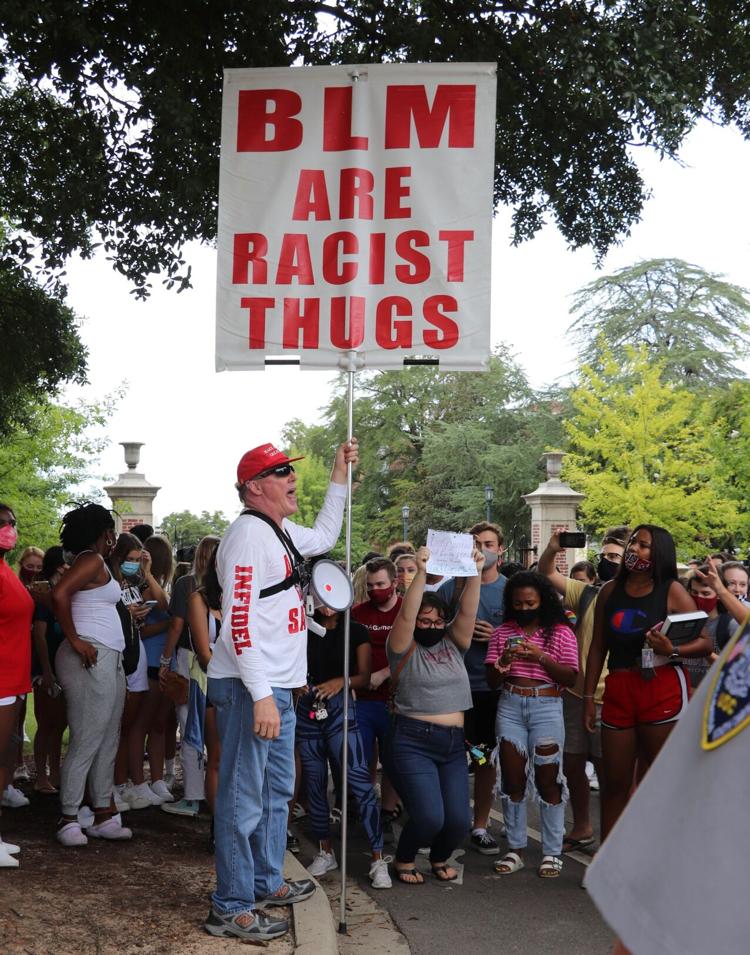 A man who came to the University of South Carolina campus Friday to express his opposition to Black Lives Matter was greeted by dozens of students who loudly disagreed.
The man arrived on Greene Street near the university's Cocky statue early Friday afternoon. He wore a red "Make America Great Again" hat and a shirt saying "Allah is Satan," and carried a sign which said "BLM are racist thugs" on one side and "BLM Rent a Riot" on the other.
Carrying a bullhorn, the man, who refused to give his name, began speaking against BLM. He also claimed that COVID-19 safety measures such as masks and hand sanitizer do not work and that students are being "socially conditioned."
Students began to gather and shout opposition to the man, chanting "black lives matter" and "no justice, no peace," making it impossible to hear the man's comments. At one point, he sang "The Star-Spangled Banner," and students knelt with raised fists.
As the student crowd grew to near 100, they were joined by musicians, who played their instruments (notably trombones) loudly any time the man spoke, drowning him out to cheers from the other students. The man directed insulting comments at the students in response, but his words were rarely audible.
"The Gamecock family is defined by passion, resilience and a community that celebrates diversity," said student body president Issy Rushton. In reference to the man, she added, "This is not what we stand for and we will not let our family be divided."
The man and students remained peaceful. University police watched from nearby and spoke to one student who allegedly grabbed the man's sign, but no arrests were made. The demonstration continued for several hours and ended without incident.
University of South Carolina President Bob Caslen responded via Twitter, saying "The demonstrator on Greene St. today may have a constitutional right to be there & say what he wants, but his words do not reflect the values and principles of our university. I applaud our students who peacefully voiced their opposition to the hate he was spewing."
Julian Williams, the university's vice president for diversity, equity and inclusion added his admiration, saying "After two months at UofSC, one thing is abundantly clear… we've got some amazing students, alumni, faculty and staff. I continue to be amazed by their willingness to advocate for equality."