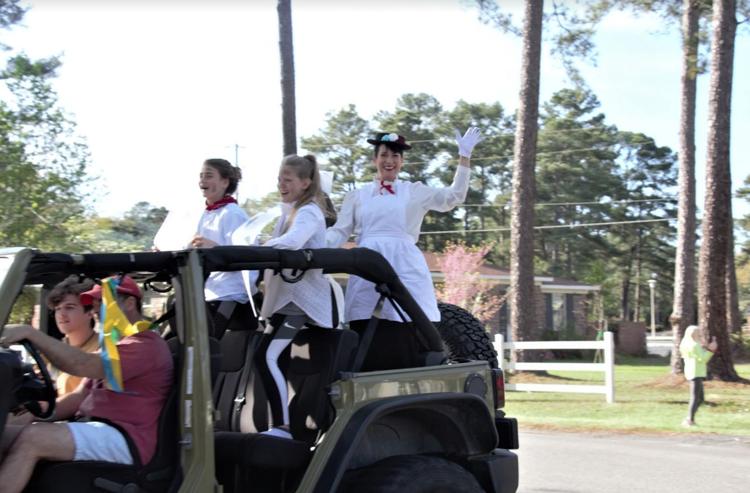 A wise woman once said "a spoonful of sugar helps the medicine go down." Thursday evening, that theory was put to the test, as members of the cast of Town Theatre's production of Mary Poppins found a way to bring a little fun into the days of social distancing and other restrictions caused by the coronavirus.
The Poppins Car Parade wound its way through several Columbia-area neighborhoods, with cast members (including the legendary nanny herself) in full costume singing songs from the show, from separate cars for virus-related safety.
All along the parade route, kids and adults alike watched from windows, porches and front yards and enjoyed a little taste of sugary wonder and imagination in a difficult time. It turned an ordinary afternoon into one nothing short of supercalifragilisticexpialidocious.
The cast isn't able to perform on stage for a full house as planned right now, but they chose this way to make the best of it.
"When our show was suspended last weekend, I was desperate to find a way to bring some joy while abiding by the rules to social distance," said Town Theatre Executive Director Shannon Scruggs. "I heard in an online service Sunday that, while this is a challenging time, we should also try to view it as an opportunity. So, I decided that, if we can't sing from the stage, we at least can do so from our cars. A few of us got together and started planning. The response has been great and we are really looking forward to our chance to #sharethegood."
Town Theatre is currently seeking permission from licensing companies to reschedule its remaining shows once the virus crisis has passed. Ticket holders for Mary Poppins will be contacted once new dates are set. More information is available at towntheatre.com.