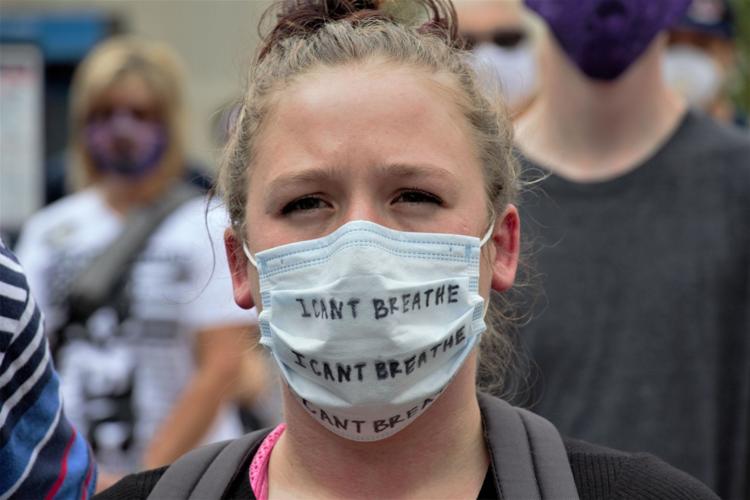 A day that began with a peaceful protest in Columbia ended with violence and destruction of property near the city's police department headquarters in what officials called two separate events involving different groups of people.
Columbia Mayor Steve Benjamin declared a 6 p.m. curfew for the Vista area near Columbia Police Department headquarters, where the violence and destruction took place. Protesters there threw rocks and bottles at law enforcement officers, set two police cars on fire and damaged others, and burned the flags in front of the headquarters building near the intersection of Washington and Lincoln streets.
One man fired gunshots during the afternoon and was quickly arrested. No one was hit by the gunfire, but four police officers and one local television news reporter were hit and injured by rocks. Columbia Police Chief Skip Holbrook said he would describe one officer's injuries as serious.
Holbrook said there were several other arrests. No further details on those arrests were immediately released. Richland County Sheriff Leon Lott said his deputies used non-lethal rubber bullets in the course of making one arrest.
The day began when more than 1,000 people gathered to protest the death of George Floyd. Floyd died May 25 in Minneapolis after police officer Derek Chauvin knelt on his neck during an arrest. Chauvin was fired from the Minneapolis police force, then arrested and charged with third degree murder.
The Columbia protesters began at City Hall, then marched peacefully down Main St. to the State House, chanting "I can't breathe," "No justice, no peace," and "F--- the police." On the north steps and lawn of the State House, a two hour rally proceeded with numerous speakers in complete peace. Sheriff Leon Lott moved through the crowd, chatting casually with protesters. The crowd sang "Amazing Grace" in unison during the rally.
Things changed after the rally when a much smaller group of approximately 150 protesters marched to the police department headquarters in the Vista. They began throwing first water bottles and then rocks at law enforcement officers, and the violence escalated from there. Police did not retaliate, standing peacefully behind protective gear except for the occasions when violence beyond the thrown objects led to arrests.
Benjamin, Lott and Holbrook thanked the peaceful crowd at the State House and emphasized the difference between the rally there and the violence at police headquarters. All suggested that outside agitators not from Columbia helped incite the violence.
"When protests go from being peaceful to being violent, the conversation changes," Benjamin said. "We're going to shut it down right now… For those not from our city, I want you to take your a** home right now."