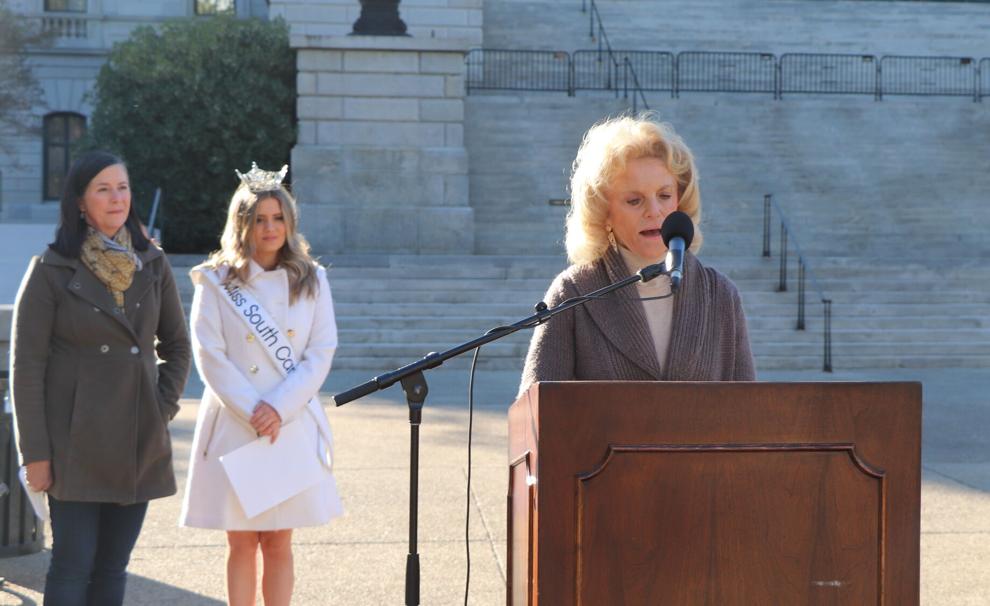 "COVID was the Grinch who stole Christmas in 2020. But thankfully things will be returning to normal," South Carolina's First Lady Peggy McMaster said Monday during the arrival of the official 2021 South Carolina Christmas Tree at the State House North Lawn, in preparation for the 55th annual Governors Carol Lighting.
Standing alongside the first lady were Kelly Barbrey, vice president of marketing and communications with Experience Columbia SC; Melissa Prickett, Columbia Garden Club (CGC) Christmas tree chair; and Julia Herrin, Miss South Carolina 2021. They all shared details regarding the annual event, which is a holiday delight for many South Carolinians.
The arrival and placement of the state's Christmas tree symbolizes the start of the holiday season in the Midlands, and Bruce Vollnogle, owner of Greer-based company, Timbertech, has been delivering the tree for 17 years. This year's tree is a 35 ft.-tall sheared Concolor Fir, also known as a white fir.
According to Prickett, CGC asks Pinetum Christmas Tree Farm to provide the best available tree, then Timbertech drives up to Swanton, Maryland, to pick it up.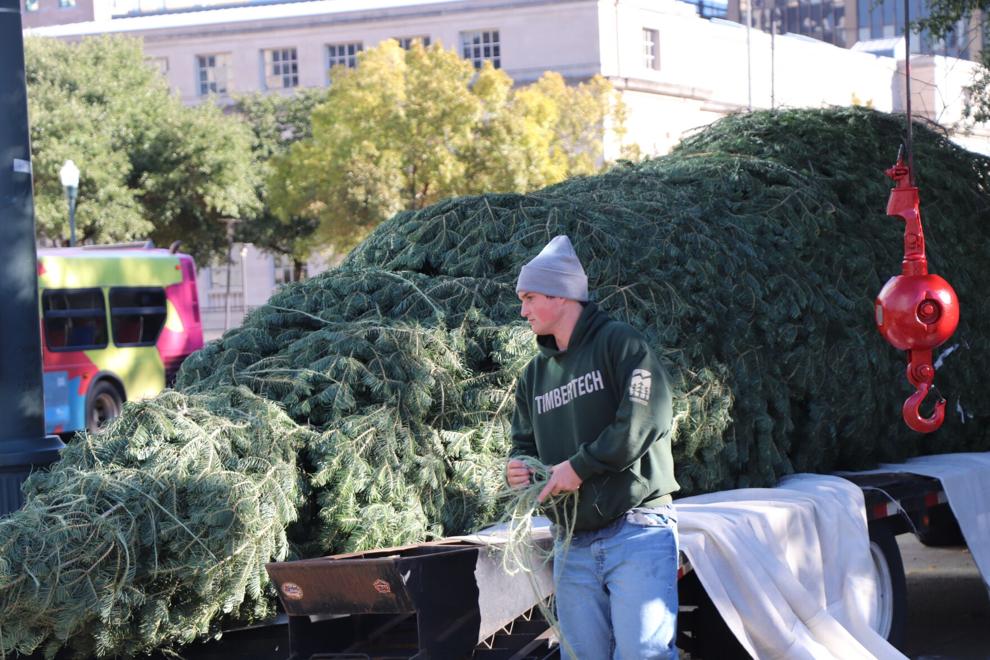 "Timbertech has provided this service to the state of South Carolina free of charge for the last 17 years. It is a true gift charge date. They take their time. They go up on Thursday with this big truck. Get the tree, bring it back down and then bring the crane to Columbia to set it up."
The tree delivery marks the ninth year that CGC has worked with the Maryland farm. Barbrey noted that Pinetum owners Marshall and Cindy Stacy own a vacation house in the Lowcountry and consider South Carolina their second home.
After the arrival and placement of the tree, the next step is decorating, which is no simple feat. Dominion Energy will string more than 13,000 LED lights, and the garden clubs will hang 900 ornaments in the coming days.
The tree will stay dark until the 55th Annual Governor's Carolighting on Sun., Nov. 21. Carolighting festivities will begin at 6 p.m. on the South Carolina State House's North Lawn.
The longtime family tradition will feature Julia Herrin, Miss 2021 South Carolina, and Rev. Tony Foster, pastor of Restoration Worship Center in Greenwood, who will emcee the Christmas story-themed program. Many will enjoy five choirs from South Carolina's historically black colleges; Allen University, South Carolina State University, Claflin University, Morris College, and Voorhees College. There will also be performances from The Jackson Sisters, the southern bronze, Handbells, Cory Ward, and the Mark Rapp jazz band.
Anyone unable the attend the longstanding Christmas tradition can watch it live on SCETV.
Experience Columbia SC is the presenting sponsor of the 55th Annual Governor's Carolighting.