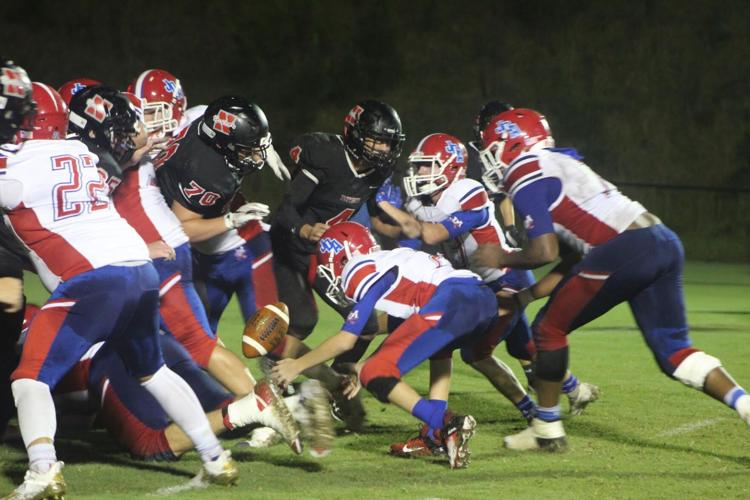 The first game in two weeks at Palmetto State Armory Field saw the home team dominate from start to finish.
Northside Christian Academy rolled to a 40-8 victory over winless Jefferson Davis Academy for its second straight victory.
The Crusaders opened the game with a drive which stalled after a botched snap on fourth and goal at the 1. After forcing a turnover, quarterback Max McKenna found Charlie Compton for the first of his four touchdown passes to open the scoring.
The two-point conversion put Northside Christian up 8-0 in the first quarter.
The Rebels (0-3) tried to answer back and found themselves with a fourth and goal at the 1-yard line. The Crusaders' defense forced a fumble and Jake Daniels returned the football a school-record 91 yards to make it 14-0.
McKenna's next three touchdown passes were caught by Luke Cochran and gave Northside Christian Academy a 34-0 halftime lead.
A nine-yard touchdown run by Brayden Ross with 5:43 lead in the third quarter made it 40-0. A long kickoff return helped set up the Rebels' lone touchdown three minutes left on a 4-yard run by Tony Hernandez and two-point conversion by Donte Payne.
Up next for "Homecoming" at Northside Christian Academy is Laurens Academy.
Wardlaw Academy 14, WW King Academy 0
The Knights suffered their third straight loss and second in a row by shutout Friday.
WW King Academy (1-3) will remain on the road to face Cathedral Academy in North Charleston.
OTHER SCISA MIDLANDS SCORES
Richard Winn Academy 54, Charleston Collegiate 6
Despite allowing its first points of the season, the Eagles improved to 4-0 on the season with another dominating performance.
In four games, Richard Winn has outscored its opponents 195-6.
Laurence Manning 14, Ben Lippen 0
Gabriel Harris and Nolan Osteen both had rushing touchdowns to lead the Swampcats to victory in the Sonic "Friday Night Rivals" Game of the Week.
Ben Lippen dropped to 0-3 on the season.
Augusta Christian 45, Heathwood Hall 16
The Highlanders suffered their first loss of the season Friday against the undefeated Lions.
Heathwood Hall (3-1) returns home for "Homecoming" next week to face Porter-Gaud.
Hammond 47, Wilson Hall 7
The defending SCISA Class 3A champions held their third straight opponent to just 7 points in improving to 3-0 on the season.
The Skyhawks head to Manning next week to face Laurence Manning Academy.