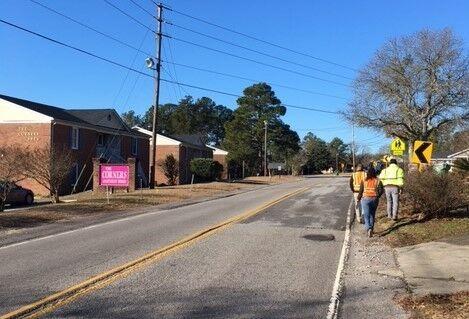 Pedestrians navigating the Woodfield community of Northeast Richland County will be able to travel more safely by summer, thanks to a sidewalk project that began construction Tuesday.
Crews contracted by Richland County Transportation will install a 5 ft.-wide sidewalk and pedestrian crosswalks along a half-mile stretch of Faraway Drive. The sidewalk will be on the road's left-hand side from East Boundary Road to Willowby Street.
A project manager and contractors walked the path of the project Tuesday morning to prepare for the clearing and silt fence installation Wednesday
"The Faraway sidewalk project promotes safety, active mobility and ADA accessibility," said Richland County Transportation Director Michael Niermeier. "This project was selected directly from Richland County's Neighborhood Master Plan for the area and refined through public input."
Traffic patterns should not change, according to Mohammed Al-Tofan, transportation manager, but parking around the work area will be prohibited from 7 a.m. to 5 p.m. Monday through Friday during construction. The work should take about five months to complete.
Two more sidewalk installations originating from the plan are in the design phase. One will run along a section of Brookfield Road near Richland Northeast High School, while the second will serve as a connector, providing a walking path from Chatsworth Road to Brookfield Road.
The work is funded as part of $63 million identified for neighborhood improvement transportation projects by the referendum creating the Penny Tax Program.