Midlands cross-country teams claimed state championships over the past three days.
It started Thursday when the Lexington High School girls' team finished first at the S.C. High School League Class 5A final at Sandhills Research Center in Columbia. In winning the program's second championship and first since 2012, the Lady Wildcats had three runners finish in the top 10 led by eighth grader Kendra Miles.
Along with Miles, earning All-State honors for Lexignton were sophomores Lydia Metz, Laurel Wells and Ava Kanitkar. All finished seventh, ninth and 15th place, respectively, while Chapin's Abigail White was fifth overall to help the Lady Eagles take fifth place.
"I was so happy that all of our hard work paid off and that everything that we've worked to, like all the workouts and stuff, finally, like showed in a race," said Miles, who placed second last year in her first state title event. "It showed, like, all season, but finally ... the end goal was reached."
For head coach Tanner Graham, who previously served as a state championship boys' cross-country assistant coach under Bailey Harris, the victory ended two years of frustration after back-to-back state runners-up appearances.
"It's just all the hard work they've put in," Graham said. "Last couple of years, they've been putting in the same hard work and that led us to a runners-up finish. There was just a different level of hunger this year on the team from the girls. Just each and every day, they showed up, ready to work and ready to get better and that led them ultimately to that final goal."
Two days later, the Dreher High School boys' cross-country team captured first place in Class 3A.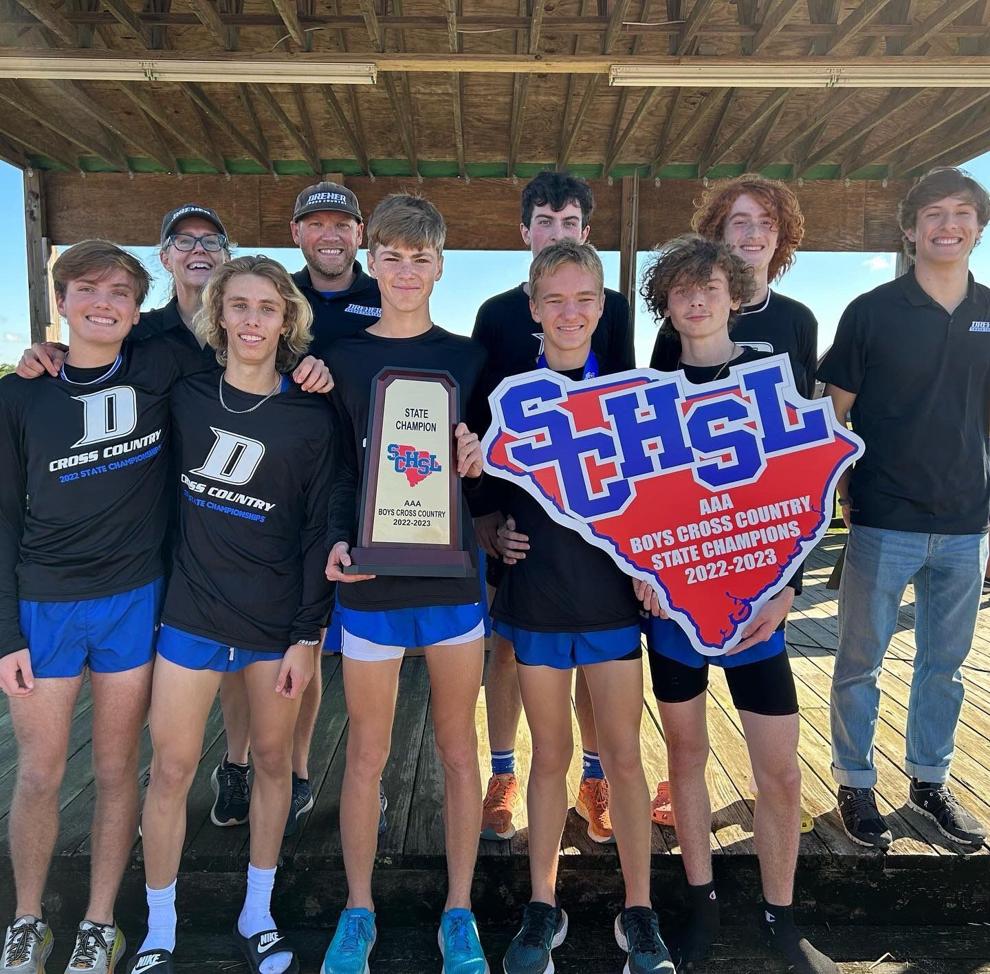 The event was pushed back from Friday following Suptropical Storm Nicole.
"It's unbelievable. It's awesome," said Dreher Coach Timmy Supplee after the race. "The guys have been putting in all the work for the last five, six years. This is the overall goal. We have come close. but have just had some bad luck at the state championships. Today, it all came together."
Senior Sam Kolowith took top individual honors for the Blue Devils. Teammates Liam Jones (fourth place) and Ivan Diaz (12th place) earned All-State honors and helped Dreher beat out Powdersville for its first-ever title.
"At the qualifier, I kind of jogged it in and didn't want to show all my cards," said Kolowith. "Today, I went all out and was able to hold off my really, good competitor Elijah Poore (of Walhalla) and ultimately get the win.
"It has been my goal since the seventh grade to win a state title and to do it as a senior is really cool."
There were other Midlands teams who finished high at the cross-country championships. Among the top finishers included both A.C. Flora in Class 4A, Lexington in Class 5A and Pelion boys in Class 2A all placing seventh. Jesse Oates and Luke McKenna earned All-State honors by finishing 12th and 15th place, respectively, in Class 5A.