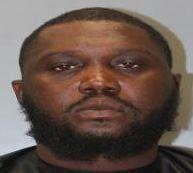 Richland County Sheriff Leon Lott announced the arrest of Gabriel Jerrod Legette, 33, on attempted murder and weapons charges Tuesday.
According to RCSD, Legette was arrested without incident by the Sheriff's Fugitive Task Force at a home on Garners Ferry Road Tuesday morning.
He is charged with four counts of attempted murder, two counts of discharging a firearm into a dwelling, possession of a weapon during a violent crime, and possession of a firearm by a convicted felon.
Deputies said the charges stem from an incident Jan. 17 where Legette fired multiple gunshots into an apartment building on S. Beltline Boulevard following an argument with residents. No one was injured.
He was transported to the Alvin S. Glenn Detention Center.