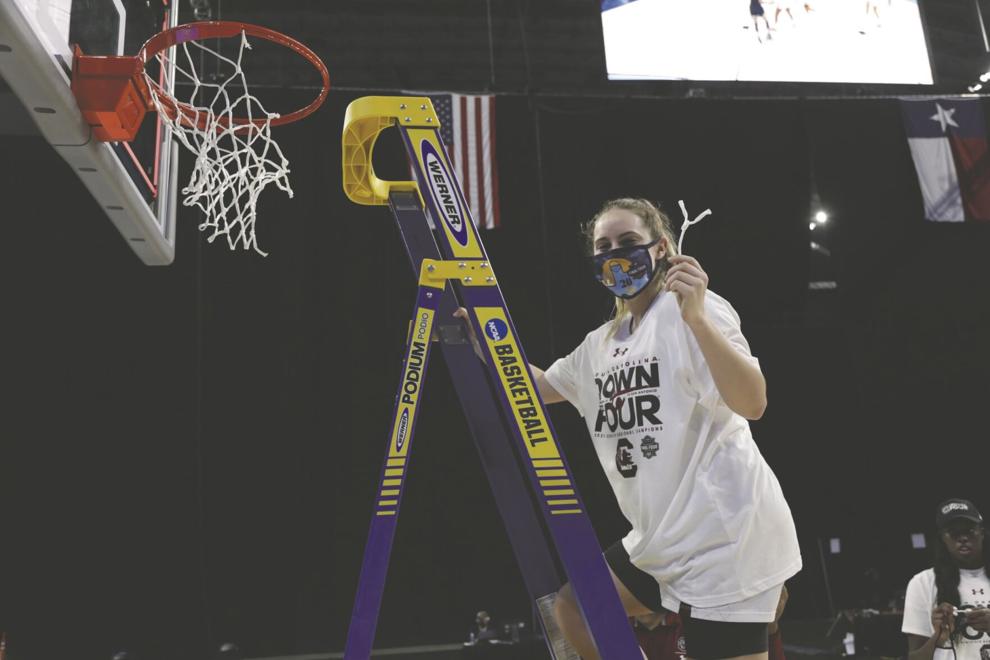 The COVID-19 pandemic ended the 2020 national championship dreams for the University of South Carolina women's basketball team.
Ranked No. 1 in both the Associated Press and Coaches polls, the Gamecocks saw their opportunity to hang a second title banner in the Colonial Life Arena rafters abruptly dashed by the NCAA's decision to cancel March Madness.
Fast forward 12 months later, the South Carolina is back in the Final Four. The Gamecocks (26-4) face Stanford (29-2) in Friday's national championship semifinal at the Alamodome with the winner facing either Connecticut (28-1) or Arizona (20-5) in Sunday's final.
For reserve guard Olivia Thompson of Lexington High School, winning it all is a fitting way for the Gamecocks to put last year's disappointment behind them.
"I think we're all on Cloud 9 right now," a raspy voiced Thompson said in a Wednesday telephone interview. "I mean, obviously we still have a job to take care of and two more games to finish. But I would say that all of us are just so excited to be here.
"This is where we would have been last year if we would have had the tournament to go to. But, since that was taken away from us, we're making up for that this year. But we're really just focusing on the task at hand and doing our jobs right now."
Becoming a "new team"
Playing in a "bubble" has provided its share of challenges, Thompson said. The team is unable to tour the city of San Antonio with its famous attractions like The Alamo or San Antonio River Walk. They are also restricted to their rooms following daily COVID-19 nasal swab testing after practices and games.
While not ideal, Thompson said this has given the team time to receive treatment between games and stayed focused on their goal of winning a title.
For entertainment, Thompson said the Gamecocks players occupy themselves with card games like UNO, watching streamed movies and playing games on their PlayStation and Xbox.
South Carolina took care of Texas 62-34 to win the Hemisfair Region. The Gamecocks set several defensive records for the NCAA tournament, including holding the Lady Longhorns scoreless in the fourth quarter.
Thompson said South Carolina is bringing into fruition head coach Dawn Staley's promise that the people would see a "new team" entering the post-season.
"We're playing very dominant and to everyone's full ability," Thompson said.
Embracing role
Thompson entered the contest with two minutes left. This is close to their average playing time in 20 games playing on a star-studded team with high school All-Americans and All-SEC selections.
Ever the supportive teammate, the former SC Basketball Coaches Association's Class 5A Player of the Year and all-time leading scorer at Lexington High has turned her limited on-court role into one as being the most supportive player on the sidelines.
"Obviously, it's not easy to have your role changed like that," Thompson said. "You can either complain about it or you can accept it and find ways to make it work and still have fun. I still feel very included and wanted on the team. My role is changing. I've embraced it and just try to be the best teammate I can possibly be on the sidelines and during practice and just be ready whenever my number is called."
Staley praised Thompson as one of the Gamecocks' "unsung heroes" for the energy and support she provides the team.
"They prepare us every single day," she said. "They embrace their role. They may not like it and I don't really expect them to like it. But they respect it, they embrace it and they do what they need to do to prepare us and that is to be awarded. Thompson's raspy voice following the Texas win serves as prime evidence of her demonstrative support."
"I try to bring the energy every game," Thompson said. "So, I'm glad that I can provide that."
South Carolina should receive more fan support Friday when they face the Lady Cardinals. The NCAA has allotted six tickets per player for the Final Four and Thompson is looking forward to having "the best fans in the nation" in the building.
Rematch is "dream scenario"
Friday's contest is a rematch from the 2017 national semifinal won by the Gamecocks 62-53 in Dallas, Texas. Having a coaching staff with that past experience is key, according to Thompson, for a roster with no previous Final Four appearances.
A potential future opponent who's no stranger to the Gamecocks is Connecticut. While focused on Stanford, Thompson is honest about getting "another shot" at the Lady Huskies to avenge the overtime regular-season loss.
In fact, a rematch with Connecticut fits into Thompson's "one shining moment" dream scenario along with hitting a game-winning shot.
"I would love to just blow UConn out in the national championship," she said. "Not even make it a close game. Not even a nail-biter...maybe beat them by double digits would be nice."
The South Carolina/Stanford national semifinal will air on ESPN at 6 p.m. Friday and can be heard locally on WNKT (107.5 FM).