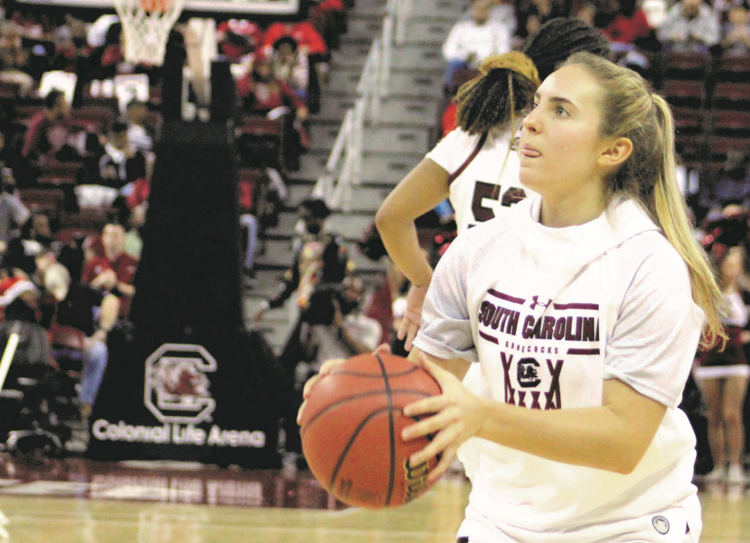 Olivia Thompson is having the time of her life.
The former Lexington High School Class 5A girls' basketball Player of the Year is a freshman at her preferred location - the University of South Carolina.
She's playing for the fourth-ranked Gamecocks' team which entered the new year as a favorite to win the Southeastern Conference title.
"It's been very fast, very fast moving," Thompson said. "But, all around, a great experience. I've been learning a lot. It's a lot of fun."
The team roster is also what Thompson has called "the most talented" on which she's ever competed.
Thompson has a firsthand view of her teammates who are rated as the top freshman class in women's college basketball.
She also knows this presents a challenge in terms of getting additional time on the court and, ultimately, earn a full scholarship on the team.
Thompson has played in 10 of the team's 15 games and scored 25 points, 21 from three-point range.
"I do what I can with the minutes that I get," Thompson said. "I'm just adjusting to how everything is changing in my role. I'm trying to grow with my role and accept it and just making the most of it. I'm here. This is where I want to be. It's still a great feeling."
Receiving some of the loudest cheers at Colonial Life Arena on entering a game has made Thompson's Gamecock experience enjoyable.
She continues to work hard in practice with hopes of receiving additional minutes on the court.
For now, Thompson's primary focus is continuing to play a role in helping South Carolina "do big things" in the SEC and beyond.
"We have high standards at the beginning of the season for ourselves," she said. "Just with the talk about being the number one recruiting class and then, everyone else on this team brings so much. So yes, we definitely have high expectations."
The Gamecocks (15-1, 3-0) return to action at 5 p.m. Sunday at Vanderbilt.