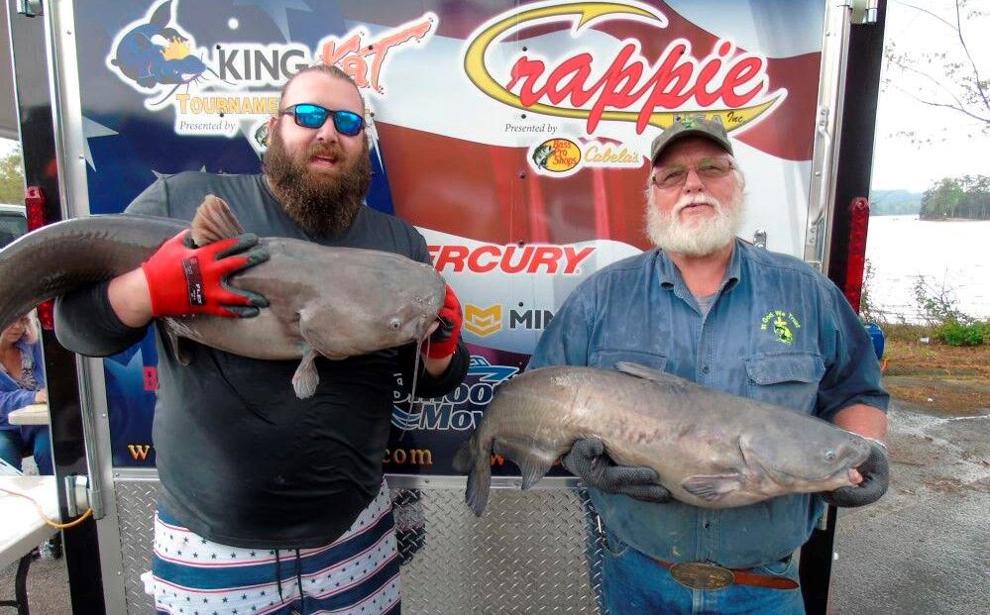 Lake Wateree in Camden attracted catfish anglers from across the country over the weekend. There was a King Kat Tournament Trail event at the lake, presented by Cabela's and hosted by the Camden Convention and Visitors Bureau.
A total of 21 teams took part in the tournament vying for $5,740 in cash and prizes and a chance to qualify for the $120,000 Classic Championship set for Oct. 30 on Milford Lake in Milford, KS.
Despite 15 mph winds and rainfall, JR Holly and Cameron Jenkins of Pageland managed to break the 100-pound mark and win first place. Their total of 101.15 pounds caught on cut-gizzard shad in 20 ft. of water earned them $3,000.
We did a lot of praying and cutting shad," said Holley at the weight-in.
Craig Shirey of Baltimore, Ohio and James Wesney of Somerset, Ohio placed second with a total of 88.4 points to earn $1,200. Following the tournament, Shirey was named to the King Kat Advisory Board.
"We welcome Craig to our Angler Advisory Board," announced Operations Manager Darrell Van Vactor. "We know his valuable input will make King Kat better for all."
Craig Casey and Larry Craig of Lancaster placed third, but they caught the Big Kat of the tournament at 35.1 pounds.
More information about the championship and other King Kat activities, can be found at kingkatusa.com.