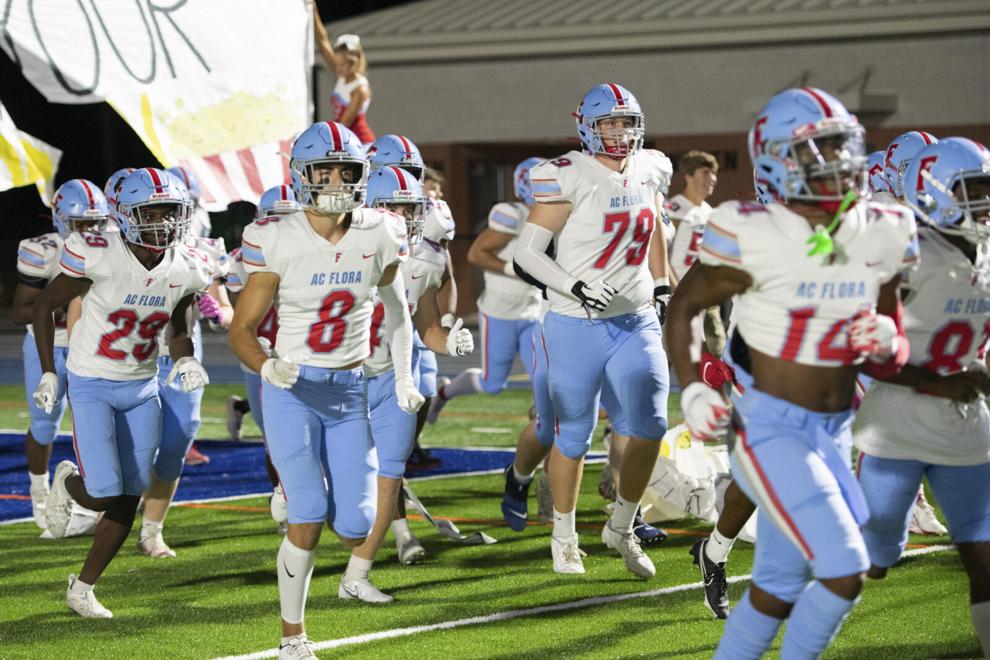 The Battle of the Dam brings back memories for AC Flora head football coach Dustin Curtis.
Playing football for Lexington High School meant facing its main rival Irmo in that game. Curtis is most fond of his long visit as a player to WC Hawkins Stadium.
"Demetris Summers having a whole bunch of yards my senior year," he remembered about the 50-18 win on Oct. 27, 2000. "Honestly, the way it worked out, that was the only game I ever played there. It was probably one of the more down Irmo teams during my high school career because we lost two heart breakers to them at home two years prior.
"It's a great place. I've got a lot of good memories from watching football and coaching there. It's a fantastic stadium. The upgrades they've done are amazing. But yes, it hits a little different because it's my high school rival."
Curtis returns to Irmo Friday leading the undefeated, top-ranked defending Class 4A champion Falcons (6-0, 2-0) riding a 17-game winning streak. They face a team in the Yellow Jackets (4-2, 2-0) which has won four of their last five games under second year head coach Aaron Brand.
Curtis believes this is the "most important" game of the season and will most likely decide the Region 4-4A title. He's preached the significance of winning the region, which this year means as many as three home playoff games.
Brand has taken an opposite approach towards Friday's game.
"I think everybody else but us thinks this is a really, really, really big game and the end to all means," he said. "We're just looking at it as our next game. I know they're region championship ramifications on the line or so to speak. But this is the most important game to us because it's our next game. The regular season doesn't end win or lose after this, so we've got to find a way to sneak into these playoffs somehow and, along the way, if we can figure out how to get a region championship, that's icing on the cake."
Brand said his team's biggest challenge is matching AC Flora's physicality and intensity. Defensively, the Yellow Jackets must slow down running back Markel Townsend and a passing game which keeps improving each week under quarterback and The Citadel baseball commit Phillips Daniels.
Offensively, Brand called AC Flora''s secondary one of the best his team will face all season. Curtis gives credit to players like safety Malik Heyward, who had six interceptions this season, for solidifying the team's pass defense.
He expects that group to be tested by Irmo quarterback Izayah Whiteside and wide receiver DeAree Rodgers. The duo is coming off a dominating performance in the 48-0 win over Dreher has Whiteside threw for 381 yards and five TDs, three to Rodgers who had seven receptions for 154 yards.
"They're a chuck play offense," Curtis said. "They don't have a lot of methodical drives, but man, they find a way to get chuck plays and beat you over the top and the quarterback moves around really well. We're going to have to play our best game on defense of the year for sure.
Friday's game is the WACH 57 Sonic Friday Night Rivals Game of the Week. It can be seen on Spectrum Cable (Channel 1250) or at wach.com .