Dutch Fork is back for a sixth straight Class 5A title.
Camden is in a rematch with the team which defeated it in last year's Class 3A final.
Gray Collegiate is making its first-ever appearance in the Class 2A final.
Those are the storylines for the three remaining Midlands teams in the S.C. High School League finals set for next weekend at Charlie W. Johnson Stadium.
The trio earned their championship berth following hard-fought victories in their respective Lower and Upper State finals.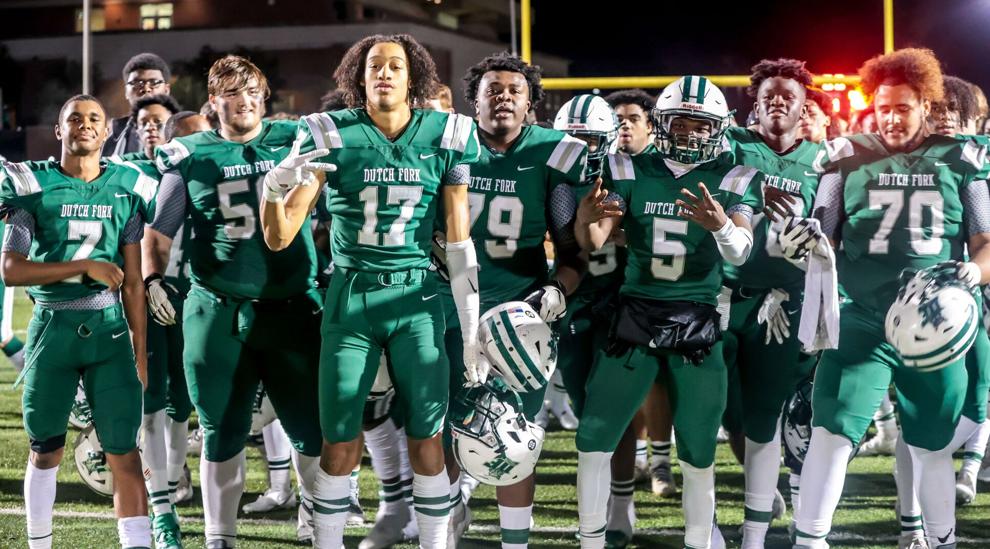 Dutch Fork 21, Fort Dorchester 14
The Silver Foxes recorded their smallest margin of victory since the one-point 2017 state final win over Dorman. They were outgained 357-338 and forced to kick a season-high five punts by the host team Patriots.
The Dutch Fork defense recorded three interceptions to halt potential scoring drives and pull out the victory to extend the following streaks:
- 62nd straight game without a loss
- 61st straight win over South Carolina-based teams
- 36th straight win since the 27-27 tie to Mallard Creek
- 34th straight road victory
- 28th straight postseason win (a state record)
Dutch Fork jumped out to a 14-0 lead in the first quarter on a 3-yard touchdown run and 74-yard scoring reception by Jarvis Green. He suffered a knee injury late in the first half and was limited in the second half.
Fort Dorchester (12-1) got on the board on Michael Small's 3-yard touchdown run in the second half. The score remained 14-7 as the Silver Foxes' defense stopped a pair of potential scoring drives by the Patriots with interceptions.
Just before the end of the third quarter, Dutch Fork quarterback Davin Patterson connected with Antonio Williams for a 96-yard touchdown to make it 21-7.
With 5:02 left, Zolton Osborne found Tre Ryan for a 34-yard touchdown to bring Fort Dorchester within a score. The Patriots got the football back at its own 14 with 22 seconds left and Osborne's desperation pass was intercepted by Williams.
"They've got a great d-line," said Dutch Fork head coach Tom Knotts about Fort Dorchester. "Their defense was better. We went right down the first couple of times and then we malfunctioned trying to throw the ball too much, probably. We'll go back and we'll try to correct the mistakes we made and get ready for the state championship."
Dutch Fork (13-0) will now face Gaffney in the Class 5A final at 5 p.m. Dec. 4 at Charlie W. Johnson Stadium. The Indians defeated Spartanburg 56-31 in the Upper State final and they defeated the Silver Foxes 34-22 in the 2012 Class 4A final.
Dutch Fork was originally slated to visit Gaffney for an Aug. 27 matchup in The Reservation. It was cancelled following the death of Silver Foxes' offensive lineman Jack Alkhatib during an evening practice.
The Silver Foxes dedicated the season to Alkhatib and the Indians' program held a donation drive in his memory.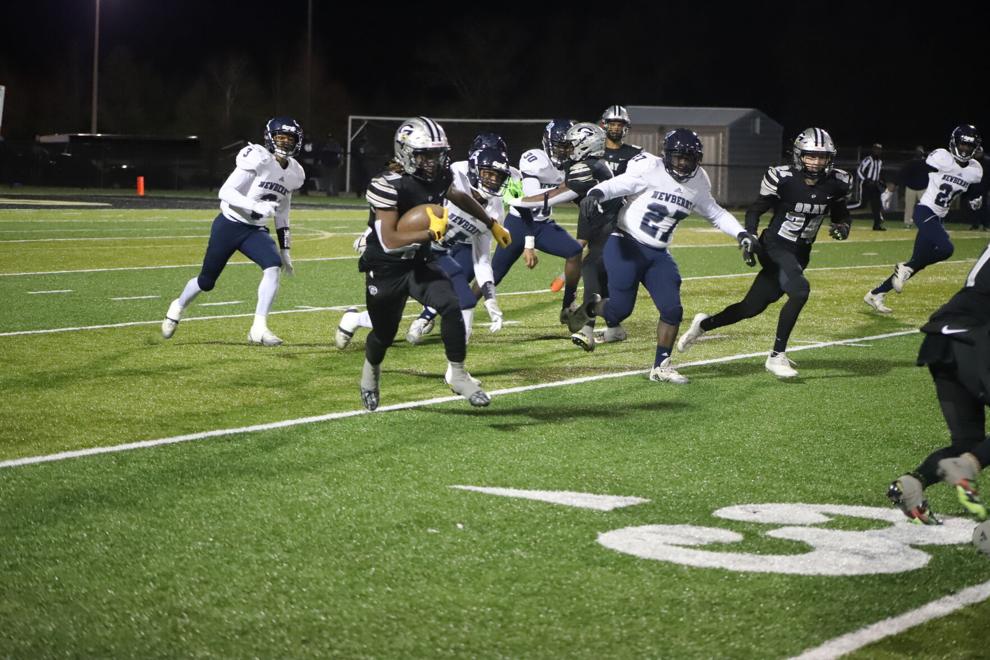 Gray Collegiate 35, Newberry 28
Mr. South Carolina Football finalist KZ Adams became the first Palmetto State player to rush for 3,000 yards in a season as the War Eagles defeated the Region 3-2A rival Bulldogs for the second time this season.
Needing 230 yards to reach the mark, Adams finished with 260 rushing yards and two touchdowns at Fairfield Central High School.
"Coming into this game, my coaches were like 'Do you have the will to get past 230 to get to 3K?'" said Adams, who entered the game with 2,770 rushing yards. "I was just telling them like 'Cmon, why don't you ask a big question? You know what I mean'. My offensive line did great. I want to thank God for that. They were making massive holes for me. They let me do what I wanted to do."
Gray Collegiate (13-1) opened the game with a 90-yard kickoff return for a touchdown by Devin Johnson. Newberry (7-6) responded with a 20-yard touchdown run by wide receiver Zach Chalmers on a reverse handoff on fourth and eight and ran it into the endzone for a score.
The PAT was wide right, however, to keep the score 7-6.
Newberry's next possession ended with a forced fumble recovered by Gray Collegiate's Zach Glenn at its own 33.
Facing a fourth and three at the Newberry 10, the War Eagles called a keeper for quarterback Tre Robinson who scored to make it 14-6.
A 42-yard touchdown run early in the second quarter by K.J. Robinson brought the Bulldogs to within 14-13 following the made PAT. Adams answered for Gray Collegiate with a 45-yard touchdown run to put him over 100 yards and extend the lead to 21-13 with 8:39 left in the second quarter.
With 1;23 left in the first quarter, Adams scored from 42 yards for his second touchdown to give Gray Collegiate a 28-13 lead going into the locker room.
Newberry opened the second half with a scoring drive capped by a 24-yard touchdown pass by Zshyheim Epps. He was then successful with the two-point conversion pass to bring the Bulldogs within 28-21.
The War Eagles made it 35-21 with 3:42 left on a 24-yard touchdown pass by Riley Staton to Austin Harris. After Robinson scored from two yards on fourth down with 7:46 left, Newberry turned to Adams to help run out the clock.
He converted a couple of first down, during which he surpassed the 3,000-yard mark. The War Eagles reached the Newberry 15 where it ran out the remaining seconds.
The loss ended the coaching career of Bulldogs' head coach Phil Strickland. A five-time state champion with 300-plus career wins, he announced his retirement plans following the end of the season.
"All I know is our kids are very resilient and they came back and they weren't going to roll over and play dead,' Strickland said. "This is a mighty fine football team that beat us tonight, but our kids played mighty fine, too."
Gray Collegiate Academy will face Silver Bluff in the Class 2A final at 7 p.m. Friday at Charlie W. Johnson Stadium.
"It's been eight years of what we've been working for," said Gray Collegiate head coach Adam Holmes, who started the program in 2014. "Came close last year, made the Upper State championship. Our goal was to obviously keep getting better every single year and we did it this year. It's all in what they did. They've been working for all year to get to this point, get back at it. I couldn't be more proud of what we've done to get here."
Camden 13, Dillon 7
Defense remained the calling card for the Bulldogs as they won a second straight Class 2A Lower State title at historic Zemp Stadium.
Camden forced six turnovers, including four interceptions, which helped to end four potential scoring drives by the Wildcats.
The Bulldogs' lone scores came on touchdown runs by Averee Hickman and Grayson White. Dillon (9-1) got a Jack Grider touchdown pass in the fourth quarter, but were shut down on their final series.
Camden (11-2) will now face Daniel once again in the state final at 2 p.m. Friday at Charlie W. Johnson Stadium. The Lions won last year's matchup 52-31 behind six touchdown passes and 472 passing yards by quarterback Trent Pearlman.
They now face a Bulldog defense which has allowed an average of 12.3 points a contest.